Campus Activities
A Caring Heart at a Nursing Home
by CUECC on 2015-07-27 10:58:38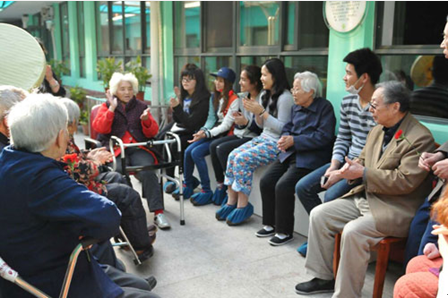 Foreign students sing songs with old people at the Old People Care Home
at Weifang community in Pudong New Area.
Foreign students from the International Education College of Shanghai University of Traditional Chinese Medicine visited elderly people at a nursing home in Pudong New Area on April 12.
The student volunteers visited the Old People Care Home at Weifang community in Pudong's Lujiazui financial district. They chatted with the old people on regimen of traditional Chinese medicine, sang songs for them and did some handwork with them.
The Old People Care Home at Weifang community is established by izhaohu, a non-profit organization on caring for the elderly. The foreign students brought much warmth and laughter to old people at the nursing room.
As the first city to become an "aged society" in China, Shanghai is trying to build more care facilities to meet the demands of an aging population. The city has about 3.88 million seniors aged above 60 as of the end of 2013, making up 27.1 percent of the total registered population, according to statistics from the Shanghai Civil Affairs Bureau.
Contact
Sophia
Tel: 0086-571-8816512
Email:study@cuecc.com
Skype: sophia19900813
QQ:2853662502
Wechat:15268518726
Stella
Tel: 0086-571-88165708
Email:admission@cuecc.com
Skype:study-in-china.org
QQ:2853662501
Serena
Tel: 0086-571-8816697
Email:studycnservice@126.com
Skpye:studycn001
QQ:2853662503
Sunny
Tel: 0086-571-88165968
Email:recruit@teachcn.com
skype:studycn001
QQ:2853662504