President Hu Jintao is set to visit the United States in April, Hong Kong-based Wenweipo reported yesterday, citing diplomatic sources.
Both sides have reached a preliminary agreement on Hu's April visit to Washington, while negotiations on the exact date and arrangements for the visit are ongoing, the report said.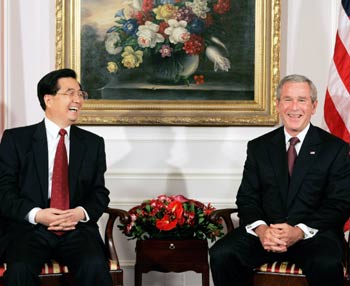 U.S. President George W. Bush (R) greets China's President Hu Jintao (L) in New York September 13, 2005. Hu is in New York for the United Nations General Assembly meeting. [Reuters]
The Chinese president had planned to visit the US last September, but his trip had to be postponed due to the impact of Hurricane Katrina.
Hu accepted the second invitation offered by US president George W. Bush in November, when the latter paid an official visit to Beijing to promote bilateral ties.
Analysts say Hu's visit will be one of the important topics discussed when US Deputy Secretary of State Robert Zoellick meets Chinese officials during his three-day visit starting today.
Among other issues will be preparations for the third China-US strategic dialogue, as both sides have agreed to hold the dialogue in the first half of this year, Foreign Ministry spokesman Kong Quan told reporters at a regular news briefing last week.
Both China and the United States are important "stakeholders" in the international community and it will benefit both sides to listen to each other's views, Zoellick was quoted by China News Service as saying, adding that maintaining contacts with China is very important.
Zoellick first used the word "stakeholder" when describing Sino-US relations while delivering a speech at a dinner of the National Committee on US-China Relations last September.
His speech was considered a sign of a shift in US diplomatic policy towards China from "strategic competitor" to an equal and important member in the current international system.
Zoellick's repeated emphasis of the word "stakeholder" and his visit to China show that Washington attaches great importance to Sino-US ties as well as Beijing's role in international affairs, said Shen Jiru, a researcher on international politics and economics at the Chinese Academy of Social Sciences.
The two countries witnessed a boom in high-ranking official exchanges last year.
The two heads of state met five times during the year and US president Bush paid his second trip to China.
Important US cabinet members including Secretary of State Condoleezza Rice, Secretary of Defence Donald H. Rumsfeld, Secretary of Treasury John W. Snow, Secretary of Commerce Carlos Gutierrez and Secretary of Agriculture Mike Johanns, also made high-profile visits.
The two nations also held two successful strategic dialogues in August and December on topics of concern, which were described by Zoellick as "constructive."