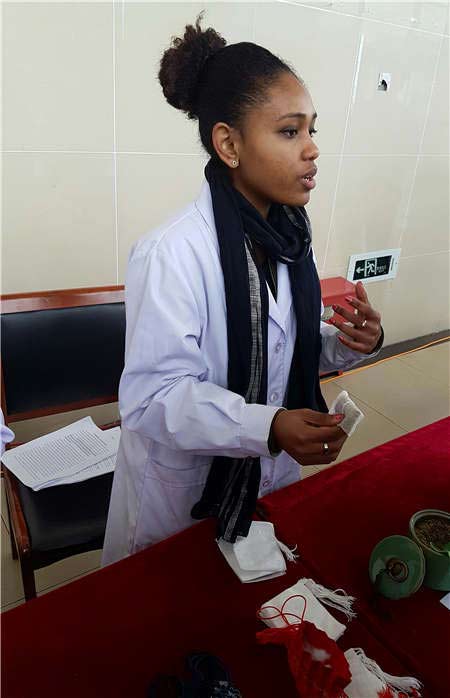 Badrah Said Ali, 26, from Madagascar, is one of the African students awarded scholarships at Nanjing University of Chinese Medicine. MELANIE PETERS/CHINA DAILY
Two students from Africa mix some pungent herbs, one lot to repel mosquitoes and the other to ease anxiety. They are among a group of Chinese students learning traditional Chinese medicine at one of the country's top universities.
Vanessa Njifack, 21, from Cameroon, is a first-year student studying at Nanjing University of Chinese Medicine. Badrah Said Ali, 26, from Madagascar, is a third-year student at the university, which has 1,500 international students among its 20,000-strong student population. They are two of three African students awarded scholarships to study at the university.
Njifack says back home people "think Chinese medicine is witchcraft".
She hopes to change that perception when she returns to open her own practice.
"Chinese medicine is so special. It has many benefits and helps Chinese people live long healthy lives," says Njifack.
She wants to specialize in acupuncture, which she considers very effective.
Ali first witnessed the benefits of traditional Chinese medicine from a relative back home. "My uncle has a practice. He used acupuncture to help a cousin who was struggling to have baby. More people are enjoying the benefits of traditional medicine. It's less invasive than Western medicine and doesn't involve strong drugs with harmful side effects."
Both women had to learn Mandarin as their studies are taught in Chinese. Njifack and Ali have risen to the challenge of studying medicine in a foreign language, although Ali admits the workload of foreign students is double that of Chinese students, as they often have to translate certain subjects into English after school so that they can gain a better understanding.
Among other things, the university teaches acupuncture, Chinese herbal medicine, cupping therapy and massage.
Degrees range from four years for a bachelor's degree in medicine to nine years for a PhD. The university also offers degrees in pharmacology, applied psychology and optometry.
Students do their practicals at Jiangsu Provincial Hospital of Integrated Chinese and Western Medicine in Nanjing, which has close to 1,000 beds and treats 700,000 outpatients a year.
According to the World Education News and Reviews, more than 700,000 students presently study TCM in China, of those 5,510 are foreigners.
Since 2012, following the first China-Africa International Cooperation and Development Forum on Traditional Chinese Medicine and Pharmacy in Cape Town, South Africa, there has been greater collaboration between Chinese and African practitioners.
More students from Africa are also coming to China to learn traditional Chinese medicine as an alternative to Western medicine.
According to the organizers of the forum, there are more than 1,000 students from Africa who have studied traditional Chinese medicine in China and some of them have been conferred master's degrees.
China's global integration has led to its universities opening their doors to an increasing number of international students.
According to some estimates, students from Africa account for more than 1 in 10 students studying abroad. Previously their universities of choice were in the United Kingdom, France and the United States.
However, in recent years that has changed as Sino-African ties have strengthened.
According to China's Ministry of Education, the growth rate of international students has seen a striking 35 percent annual increase on average. Between 2005 and 2015, the department reported that the number of African students in China rose from 2,757 to about 50,000.
Statistics show China's pharmaceutical exports to South Africa, Morocco, Benin and Nigeria are rising.
South Africa already has a traditional Chinese medicine market that is comparatively well-developed.
In 2000, the South African government went through the legislative process to recognize supplementary medicine, including acupuncture. In August 2002, the government required that all herbal products be registered before entering the South African market.
At the forum Ibrahim Mahmoud, president of the South African Traditional Chinese Medicine and Acupuncture Association, said that traditional Chinese medicine had a promising future in the country. He believed that through joint efforts with the Chinese TCM practitioners, more Africans would understand, recognize and accept Chinese medicine.
The author is an online editor of South African newspaper Weekend Argus.
(source: China Daily)
For more information about studying TCM in China, please feel free to contact
Sally

Tel: 0086-571-88165697
Email:eduunion@cuecc.com
Skpye:studycn001
QQ:2853662503
Wechat:18958007123
WahtsApp: +86 18958007123