African doctor Diarra Boubacar works with a medical intern at a traditional Chinese medicine hospital.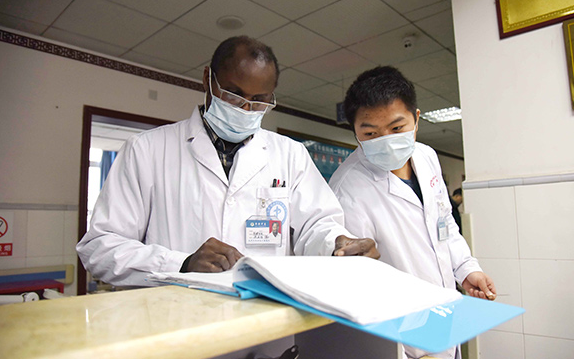 Boubacar first came to China in 1984 on a student exchange program majoring in Chinese language and culture at Beijing Language and Culture University.
After the two-year course, he intended to enroll at Beijing Medical University but then switched to studying TCM at Guangzhou University of TCM, preferring to study something typical in China. The start, as he remembered, was very difficult.
"It's not like now when you have places in China where foreigners can go and (attend) class in English," he explained to Xinhua.
"I went to university with Chinese students (and) we did it in Chinese. So it was very, very hard for us. In the beginning we couldn't understand the teachers."
Since TCM is also related to Chinese history and culture, students have to study ancient Chinese literatures as most of the medical texts are written in ancient Chinese characters. "That's a subject even the Chinese find difficult; so think of me, a foreigner!" he said.
What inspired him to plod on was the similarities in TCM and traditional African medicine, such as using certain herbs to treat the same diseases and letting out blood.
However, the greatest challenge for him was to convince people that even though he was a "laowai" - a foreigner - he could still treat them effectively with TCM. Fortunately, his fluency in Chinese improved, which helped.
In 1997, he became the first foreigner to receive a doctoral degree in acupuncture from Chengdu University of TCM. The same year, he also got married.
He met his wife, Yang Mei, while attending a local church in Chengdu. Since then, his Chinese has further improved as well as his knowledge of Chinese culture. After 20 years of marriage, the proud couple has two children.
Boubacar said he is so well integrated into Chinese culture and society that every time he goes back home, his friends complain about his being "more Chinese than African!"
His philosophy is simple. Life is about living in harmony with friends, and it "doesn't matter whether here in China or in Africa."
( From Chinadaily website)
If you also wanna realize ur dream in China, pls study hard and choose a right direction and never give up :)
TCM program which is available for applying all yr around in China
Shenyang Pharmaceutical University
Location: Shenyang, Liaoning Province
Undergraduate programs:
Pharmacy,
Traditional Chinese Medicines
Pharmacy( clinical)
Tuition: 25,000 yuan / year
Accommodation: 5,000 yuan / year (double room) 9000 yuan / year (single room)
Scholarships:
Excellent students get 5000yuan scholarships as soon as they arrive at school;
During the years of study, outstanding students will be given scholarships from 500-25000yuan accroding to their scores in courses.
If you wanna apply TCM course in this uni, pls contact:
Stella-CUECC

Tel:0086 571 88165708
QQ: 2853662501
Email: admission@cuecc.com
Wechat: StudyInChina1