Colorful Chinese Year, Colorul Activities
The Confucius Institute at Frankfurt University hosted Chinese Culture Exhibition Hall event during the Year of Chinese Culture along Rhine Riverside between May 25 and May 31, 2012 thanks to cooperation with Frankfurt Municipal Government and the strong support from Chinese Consulate-General in Frankfurt. The event invited a host of Chinese and Germany celebrities to engage in diverse cultural exchanges, such as interview, dialogue, calligraphy, tea ceremony and dance, and was well received by people from all segments of the society.
A small reception at 1:00pm on May 25 opened the week-long event which witnessed the participation of distinguished guests from Frankfurt Municipal Government and Chinese Consulate-General. Attendees exchanged views enjoyably concerning the Year of Chinese Culture at the reception.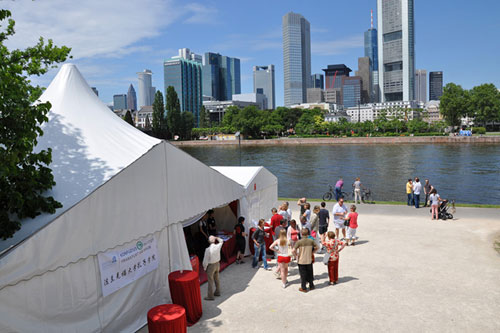 Chinese Culture Exhibition Hall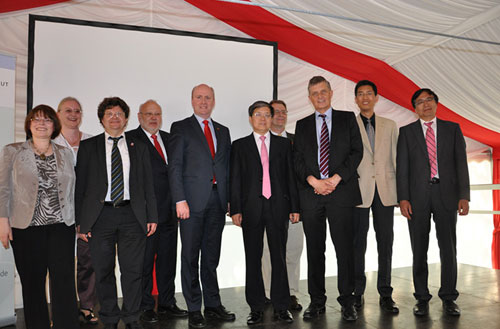 Small Reception
In the ensuing week, the Culture Exhibition Hall welcomed a good number of well-known Chinese and Germany scholars and artists, who conducted colorful cultural dialogue and presented a grand cultural feast for visitors.
Born in the 1960s, Chen Ning lived in Germany for more than 20 years, attaining a lot in calligraphy. In addition, his qigong lecture, scene lectures like Chinese-German dialect cross talk, opera and tea house were highly welcomed by visitors at the Exhibition Hall.
Prof. Eugene Wang from Harvard University gave a lecture titled "When and How Dragon Come to Matter in China", touching upon "the development process of dragon image throughout the ages and the impact of foreign culture on China", thus, unveiling the mysterious mask of dragon.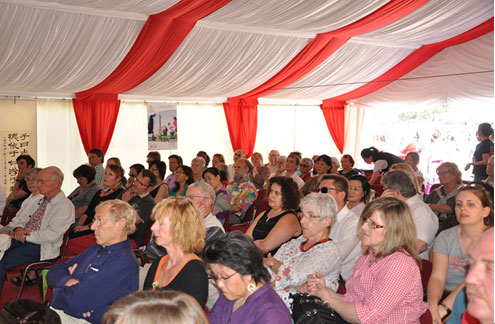 Chinese Experiential Course
As the carrier of China's time-honored culture, Chinese language has been one of the contents on display at the Exhibition Hall. Guests understood basic knowledge about Chinese language and experienced the charisma of Chinese language via rich exchanges and interactions at the Chinese Experiential Course provided by volunteers of the Confucius Institute at Frankfurt University.
Beautiful girls from Xinjiang, charming girls from northeast China, and other young players from German Oriental Art School led by Principal Pan Chunmei put on a wonderful performance of China's traditional dancing for visitors. From Xinjiang Dancing to Mongolia Dancing, from Dance of Yi Nationality to yangko of northeast China, pretty dance attracted spectators at the site and many passers-by. The unique technique of Principal Pan – face changing, became the climax of the performance.
Bao Lili, a master of tea ceremony from Shanghai, appeared at the Culture Exhibition Hall in beautiful cheongsam and presented a harmonious and graceful tea ceremony performance. As one of the highlights at Chinese Experience Pavilion, tea ceremony attracted the attention of many spectators. Tea aroma and culture from China fully touched the sense of smell and sensation of attendees and enhanced their understanding of and acquaintance with China, a state of ceremonies.
The concert presented by Deng Xiaomei and musicians from Mannheim erected a bridge between eastern and western music. The performers perfectly combined Chinese traditional folk music with thousand years of history with harmonic rhythm of west, offering a high-level and quality concert for visitors at the site.
A famous troupe from Austria vividly explained the opera of Chinese director Jing-hui Meng – "Two Dogs' Outlook on Life" which explored into issues behind China's rapid economic development from the perspective of farmer-turned migrant workers and aroused the speculation of audience on high-speed development of the modern society.
Well-known Germany architect Prof. Speer showed up at Chinese Culture Exhibition Hall and exchanged views with Prof. Chen Yi and Prof. Zhou Yun from China on the topic of China's Urban Planning in the dialogue entitled "Chinese Cities in the 21st Century: Urban Planning of Mega City", offering an excellent cultural exchange event to visitors.
What kind of collision will engender when calligraphy encounters action painting? Artist Martina Geisler and Dr. Qian Yuejun presented a high-level action calligraphy and painting performance for guests and engaged in interactions with visitors, producing emotional works.
At 7:00pm on the last day when the week-long event drew to a close, famous German reporter Günter Wallraff and Huang Zhangjin, associate editor of China's Phoenix Weekly launched lively discussions around the theme of "Press Freedom and Media Criticism – Journalism and Society", receiving strong responses from audience at the site.
During the week-long event, Culture Exhibition Hall of the Confucius Institute at Frankfurt University received over 5,000 visitors. The event has not only carried forward Chinese traditional culture, promoted dialogue and communication between Chinese and German culture, but also expanded the influence and reputation of the CI, received wide acclaims and scored great achievements. Much of the visitors indicated that they will keep a watchful eye on events held by the CI and hoped the CI can organize similar event next year, thereby providing them with more opportunities to approach China and deepening their understanding about Chinese culture.