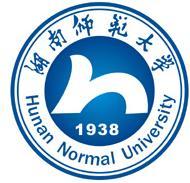 湖南师范大学
Hunan Normal University
·A member of National Project 211 and ranks top 100 of china universities.

·It is very strong at teaching Chinese as a second language.


·The international student dormitories are providing hotel-style services.

·Banks, post office, telephone booths, supermarkets are available inside the campus.

·Compare with the universities in Beijing or Shanghai, the living expense in HNU is quite low. With the same amount, you can get higher quality life style in Changsha.




| Program | Degree | Duration | Teaching Medium | Tuition Fee | Starting Date | Application Deadline |
| --- | --- | --- | --- | --- | --- | --- |
Review
Points 0(0 rewiews in total)

Teaching

Accomodation

Food

Environment

Location

Administration

Living expense