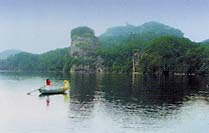 Sanming is a city under the direct jurisdiction of the Fujian provincial government. It is situated between Wuyi and Daiyun mountains in northwestern Fujian as a rising industrial city and a principal tourist resort in the "green triangle area," suitable for tourists the year round. The city has an area of 22,900 square kilometers and a population of 2.5 million.

The city of Sanming has a long history. Historical relics from the Neolithic Age, especially fossils of Qingliu Man found in Huli Cave, push the history of human activities from the formerly-believed 7,000 years to 10,000 years ago. Beautiful Sanming boasts of many Ming Dynasty buildings, stone carvings, and other historical relics.
Sanming City is referred to as a "green treasure house" known for its rare animals and plants. It is abundant in products, producing bamboo and wodden articles, mushrooms, bamboo shoots, lotus seeds. Jinju tangerine, carambola, gem, dried meat, and dried chilli.
Ruiyun Mountain
Standing at the foot of Shitou Mountain, 12 kilometers northwest of Sanming, Ruiyun Mountain features an igneious rock landform. There is a five-bay wooden temple built inside Ruiyun Cave during the Ming Dynasty to enshrine the images of buddhas. The steep wall at the entrance bears inscriptions from the Song, Ming, and Oing regimes. The top is covered with verdant pines, and a mountain spring flows over the entrance to form a water curtain.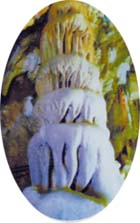 The Tiane (Swan) Cave Scenic Area
Lying 28 kilometers east of the Ninghua county seat, the scenic area obtained its name because the mountain there resembles a swan and the stalactites inside the caves are as spotless white as swans. The scenic area consists of a group of caves such as the Tian@,@e, Shenfeng, Shiping, and Shujing caves plus a stream and Yixiantan (The Sky Is as Narrow as a Thread). They are the largest, densely-disributed cave group in Fujian.
The Residence of Shangshu (War Minister)
This former residence of a Ming Dynasty war minister in the heart of the Taining county town is a national historical site under key state protection. It sprawls in an area of over 4,000 square meters and features a compact, reasonable layout. The residence is of high value in the study of the Ming Dynasty architecture.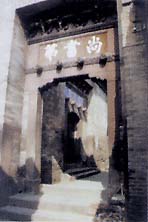 Jinhu Lake
It extends at the southern tip of Wuyi Mountain in Taining County. Jinhu Lake is a simplified name of the man-made Jinxi New Lake. The lake area is noted for its green hills, enchanting water, intriguing caves, beautiful rocks, and peaks of strange shapes.
Taoyuan Cave
Located on the banks of the Yanjiang River ten kilometers north of Yong@,@an City, the Taoyuan Cave Scenic Area has jagged rocks of grotesque shapes and luxuriant trees. The unique landscape is known for its wonderfulness, excellence, beauty, seclusion, and perilousness. The best known is Yixiantian (The Sky Is as Narrow as a Thread).
Universities in Sanming
Sanming University
Fujian College of Water Conservancy and Electric Power