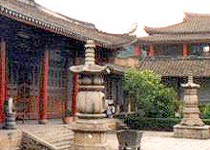 Lying in southern Fujian Province, Zhangzhou City has an area of 12,600 square kilometers and a population of 4.3 million. The best tourist season is from February to October. Zhangzhou has a long history, and it is a well-known historical and cultural city.

Zhangzhou boasts of beautiful landscape, men of letters, many places of historic interest and scenic beauty, colorful folk customs, and rich tourist resources. The landscape is composed of mountains, the sea, rocks, caves, pavilions, tablets, temples, bridges, trees, flowers, and fruit.
At present, special tourist routes are open for people to spend holidays on the beach, admire flowers, taste the local fruit, visit ancient buildings, tour the rammedearth houses, make religious homage, and pay respects to ancestors.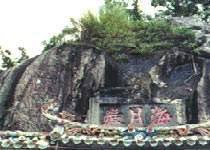 The Ancient Tonghshan Castle
Located in Tongling Town on northwestern Dongshan Island, this waterside castle was built of stone in 1387 by Zhou Dexing of the Ming Dynasty to guard against Japanese pirates. Its magnificent gatetower still stands intact. Inside, there is a zigzag path connected by corridors and the exquisite Temple of Guan Yu. The entrance to the temple is flanked by ancient houses, the birthplace of Huang Daozhou, an official of the Ming Dynasty.
Jiuhou Mountain
Known as "the No.1 mountain in southern Fujian," Jiuhou Mountain stands in the northeastern part of Zhao@,@an county seat, 163 kilometers from Zhangzhou. There are nine peaks strewn with strange-shape granite rocks. The Jiuhou Temple was built halfway uphill during the Tang Dynasty. In its front are the Wanghai Tower, the Wuru Academy of Classical Learning, and inscriptions carved on cliffs since the Song and Yuan dynasties.
Lingtong Crag
Located in Dafeng Mountain in Daxi Town of Pinghe County, Lingtong Crag is strewn with bizarre rocks. There are 18 scenic spots. There are also the native place of Wu Feng, a man known as the "god of Mount Ali" in Taiwan, the place where Huang Daozhou gave lectures, the native place of Lin Yutang, ancient sub-tropical plants, and such rare fish as giant salamander.
Tianzhu Mountain
Towering in southeastern Chanqtai County. Tianzhu Mountain is also called a "sky pillar that thrusts into the clouds" because the top is often enshrouded in mist and clouds. There are more than 20 historical relics and scenic attractions including the Song Dynasty inscriptions cliffsides. Xiangbi, Wanggui, Pantuo, and Pingfeng rocks; Yuxian Spring and Guanhai Tower.

Universities in Zhangzhou
Zhangzhou Normal University
Zhangzhou Institute of Technology
Zhangzhou City University