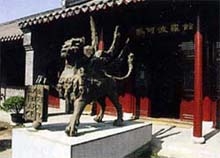 Yangzhou
Lying in central Jiangsu Province, the city of Yangzhou has the Changjiang River to the south, the Huaihe River to the north, and the Grand Canal flowing through its urban area. Built 2,480 years ago, Yangzhou was once the economic and cultural center of areas between the Changjiang and Huaihe river valleys and an important port for the earliest trade and contacts between China and the rest of the world. The ancestors of people in Yangzhou created a splendid culture and left behind them a large number of historical relics and sites, making it a wellknown tourist city in China. These include the Lesser West Lake, Hongqiao Bridge, the Mist and Rain Tower, the Ershisi Bridge, and Huhu Humble Cottage.
The Marco Polo Memorial Hall
The hall is inside the Tianning Temple. Marco Polo was an Italian traveller. He lived for 17 years in China and held an official position in Yangzhou for three years. On display in the memorial hall arc materials showing his life in China.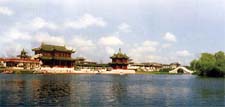 The Lesser West Lake
A lake narrow and long to the west of Yangzhou, it extends from Hongqiao Bridge in the south to Shugang Hill in the north. It is so named because the lake is as beautiful as West Lake in Hangzhou but narrower and smaller in size. Its scenic attractions include the Greater Hongqiao Bridge, Xuyuan Garden, the Lesser Jinshan Hill, the Fishing Terrace, and Wangchun Pavilion.
Universities in Yangzhou