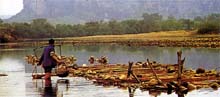 Population: 1,076,000
Area: 3,554 square kilometers (1,372 square miles)
Nationalities: Han
Administrative Division: 1 district (Yuehu); 1 county (Yujiang); 1 county-level city (Guixi)
Useful Telephone Numbers:
Tourist Complaints: 0701-6433883
Weather Forecast: 121
Zip Code Inquiry: 184
Bank of China: 0701-6221128
Location: Yingtan City lies in the northeast of Jiangxi Province, in the middle and lower reaches of Xinjiang River. It is bordered by Shangrao within the province and neighbors Fujian Province in the southeast.
History: According to archeological discovery, this area became a vital center of ceramic production as early as the middle and late Shang Dynasty (16th - 11th century BC). It was called Yingtan Fang in the Tang Dynasty (618-907), just the eponymy of the city. In the late Qing Dynasty (1644-1911), it was only a town and ascended to be a city though more than a hundred years of development.
Physical Features: Yingtan belongs to the low mountainous and hilly area of northeast Jiangxi, having typical Danxia Landform. Within the city, over ninety percent of the plantation is paddy field.
Climatic Features: Enjoying a subtropical temperate and humid monsoon climate, the city is characterized by clear four seasons, moderate weather, abundant rainfall and long frost-free season. The weather in spring is inconstant and winter is relatively warmer. April to June is the flood season.
When to Go: all the year round
Special Local product: early mature pear, tea (kuding tea, aloe tea), red stone
Scenic Spots:
Longhu Mountain: Longhu (Dragon and Tiger) Mountain is a famous Taoism site, and a well-known attraction collecting the essence of the sceneries of Yingtan. Famous for the Taoist culture, enigma of cliff-hanging coffins, the Luxi River and Danxia scenery, this mountain resorts mountains several scenic spots, and the Luxi River, like a jade belt, strings them together.
Some fascinating scenic spots:
Fairy Water Rock: Consisting of 24 rock peaks, the Fairy Water Rock has numerous hang coffin groups scattered in caves on the precipitous crags. These cave tombs can be traced back to 2,600 year ago, leaving behind many enigmas to be exposed.
Shangqing Ancient Village: With a thousand years of history, the ancient village is built along river surrounded by mountains. The two kilometers (1.2 miles) long old street is dotted by many sightseeings, including the Shangqing Palace and the Mansion of Celestial Master. Apart from these Taoism buildings, visitors can also admire the suspending buildings and wharfs of the locals.
Bamboo raft is the principal way of touring Longhu Mountain. So the best time to visiting the mountain by water is during April to October. If traveling along the overland route, visitors can get there at any season during a year.