International Student Registration Guide 2015
at School of International Education,Nanjing University of Science & Technology
1. Registration dates

2. Materials required for registration
a. Passport;
b. Original copy of Admission Notice & JW201 or JW 202 visa application form;
c. Original copy of Transfer statement from current institutions for students who transfer to NUST within China; Approval Letter from current institutions for students who study short courses in China;
d. Original copy of Highest degree graduation certificates & transcripts;
e. Notarized copy of Highest degree graduation certificates & transcripts in English or in Chinese;
f. Original copy of Language Proficiency Certificate for non native speaker other than English or Chinese (e.g. IELTS, HSK4 etc);
g. 5 passport-size photo, 5 1-inch size photo;
h. 2 copies of passport information page (for the use of opening the bank account);
i. Physical examination report.
3. Fees Standard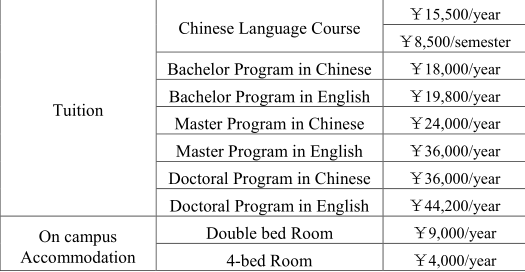 4.Transportation
From Shanghai
Shanghai Pudong International Airport—Shanghai Hongqiao Railway
Station—Nanjing Railway Station or Nanjing South Railway Station.
From Beijing
Beijing International Airport—Beijing South Railway Station—Nanjing South
Railway Station.
Arrival in Nanjing
Address: 200 Xiaolingwei Street, Nanjing University of Science & Technology,
Floor 2, School of International Education. (Enter Gate No. 2, go straight and
cross the roundabout, then go straight on for 300 meters, the school is located
on the right hand in a grey building).
Detailed Chinese translation of the Address:
南京 孝陵卫 200 号南京理工大学 国际教育学院 (二号门进入, 直行至大转盘,再直行 300 米,右手边 楼内二楼,)
5.Students Contact points
The Student Union is the voluntary party from NUST-School of International Education; the names listed below are the representatives from different countries and regions. They are responsible for answering some questions and be able to help you.
① Arabic countries:
BOKHARI,NABIL AHMAD A
E-mail: bulbul8087@hotmail.comMobile:+86-13057666515
AHMED ABDULGHANI AHMED MOHAMMED,AL-KAMEL
E-mail:19alkamel@gmail.com, 2377637047@qq.com
Mobile: +86-18606192595
② Pakistan:
MUHMOOD,TAHIR
E-mail:muhmoodtahir@yahoo.comMobile: +86-13611598713
③ African and American countries:
MENDES BORGES,SAMORA MOISES
E-mail:elsannamu6@hotmail.comMobile: +86- 18652092272
④ South and East Asian countries:
NGUYEN,HUU TRONG
E-mail:nguyenhuutrong88@gmail.com, 2870250153@qq.com
Mobile: +86- 13851796825
⑤ Kazakhstan:
ZHANTORE,ULSARA
E-mail:sara_coner88@mail.ruMobile: +86- 13921445141, +770-23497319
MARATKYZY,ASSEL
E-mail:MASYA_KTL@MAIL.RU
Mobile: +86- 15651986728, +770-51305548
⑥ Mongolia and Russia:
BAYARTSOGT,OYUN
E-mail:oyun_good@yahoo.comMobile: +86- 15651793338
⑦ European countries:
MUL,REMCO ALFONSES HENDRIK
E-mail:mulremco@163.commul.remco@gmail.com
Mobile: +86-15150554014
⑧ Iran and other countries:
VAJDI,AHMADREZA
E-mail: ahmadreza.vajdi@hotmail.com
Mobile:+86-15295751674
6.Contact Details
Tel: +86-25-84303222, +86-25-84303232, +86-25-84303135
CUECC wish all students good journey there and pleasant study experience in that university!