Recipes For Mid Autumn Festival
MOONCAKE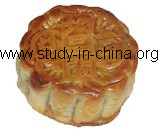 Ingredients:
Filling:
1 pound red azuki beans water
1-3/4 cups sugar
3/4 cup lard or oil

Water-Shortening Dough:
2 cups flour
10 tablespoons water
5 tablespoons lard
1/4 teaspoon salt

Flaky Dough:
5 tablespoons lard
1 cup flour
red food coloring for design

Preparation:

Soak red beans in water and keep it covered for 2 hours. Drain and discard the water. Pour about 8 cups of fresh water on the beans and bring to a boil, then simmer for about 1-1/2 hours over low heat until skins open. Strain the beans and discard the skins. Place the strained beans in several layers of cheesecloth and squeeze out any excess water.

Place in a saucepan with the oil or lard and the sugar. Cook, stirring continuously, until almost all the moisture has evaporated. Let it cool.

You will need 2 cups of filling for the mooncakes. Divide this into 20 portions and shape into balls.

Directions: Mix the ingredients for the flaky dough and the water-shortening dough separately until the mixture becomes smooth. Divide each dough into 20 equal portions. Wrap one portion of flaky dough inside each portion of water-shortening dough. Roll out each piece of dough, then fold in thirds to form three layers. Roll out again, and once more fold in thirds to form three layers.

With the palm of your hand flatten each piece of dough to form a 3" circle. Place one portion of filling in the center. Gather the edges to enclose the filling and pinch to seal. Place the filled packet in the mould, gently pressing to fit. Invert and remove the mould.

Use water to dilute the red food coloring and pour onto a damp paper towel on a plate. Take some food coloring onto the cookie-design stamp and then press on top of the mooncake.

Repeat theprocess for the remaining mooncakes. Arrange the mooncakes on a baking sheet. Bake 20 minutes at 350 degrees. Let it cool before serving.


2) BRAISED SEA CUCUMBER WITH OYSTER SAUCE



Cooking Method : Braising


Ingredients :

1) Pre-soaked sea cucumber 150 g [5 oz] [cut into pieces]
2) Chicken slices
3) soaked Chinese mushrooms
4) ham slices 90 g [3 oz]
5) Ginger 4 small slices
6) green onion for blanching
7) Green onion 1 [sectioned]


Ingredients for the Sauce Mix :

Premium Oyster Flavored Sauce 1 1/2 tbsp Water 150 ml
Corn starch 1 tsp
Premium Soya Sauce 1/4 tsp, Sugar 1/4 tsp


Preparation :


1. Blanch sea cucumber in boiling water with green onion and ginger. Drain.
2. Saute ginger and green onion in 1 tbsp oil. Add sea cucumber, mushrooms, chicken, ham and stir-fry for 1 minute.
3. Stir in sauce mix and cook for about 3 minutes until the sauce thickens.

Serves 2


3) PANCAKE WITH EGG FILLING

Ingredients:-
4 eggs
1 1/2 cups (200 g) flour, sifted
7 fl oz (200 ml) vegetable oil
2 tsp scallions, chopped
1 tsp salt, or to taste


Preparation:

Mix the flour with 200 ml of water. Knead until the dough becomes soft, smooth and elastic.

Roll out the dough into a large flat circle. Rub oil all over the surface of the dough and sprinkle scallions and salt over it. Roll the piece away from you. Lift one end, press down to make into a ball. Roll out the ball into a flat circular dough.

On a heavy frying pan, place the dough and bake the cake until almost cooked. Lift the cake with one hand and make an opening at the rim. Using the rolling pin to make a hollow inside the cake. Beat eggs and pour into the hollow of the cake. Pinch and seal the opening. Add a little oil to the pan, continue to bake until the eggs inside the cake swell. Remove and serve.


4) EGG PANCAKE

Ingredients:-

3 eggs
5 tsp. vegetable oil
1 tsp. salt, or to taste
1/2 tsp. scallions, chopped



Preparation:


Beat the eggs in a bowl and add the scallions and salt. Mix well.

Heat the oil over high heat until the surface ripples. Add the eggs and swirl the pan so the egg spreads over the surface evenly. Turn the heat to low and cook until the bottom of the pancake is set and browned.

Turn and cook until it becomes brown on the other side.

Remove and serve.



5) EASY OYSTER SAUCE CHICKEN

Ingredients:-
4 chicken thighs
1/4 teaspoon black pepper, or to taste
1/4 teaspoon salt
1/2 yellow onion
2 cloves garlic
2 tablespoons oyster sauce
2 teaspoons olive oil
1 tablespoon dark soy sauce or tamari
1 tablespoon Chinese rice wine, dry white wine, or dry sherry
1 teaspoon brown sugar


Preparation:

Heat the olive oil in a non-stick frying pan over medium heat. Add the chicken thighs and brown on both sides. Remove the chicken thighs from the pan and drain on paper towels. Do not clean out the pan.

Add the garlic and onion into the pan, and cook for 5 minutes or until the onion is softened. Add the red pepper into the pan. Cook briefly, then add the sauce.

Bring the sauce to a boil, then add the chicken thighs back into the pan. Reduce the heat, cover, and simmer the chicken until the juices in the thickest part of the thigh are clear when pierced with a fork. It will take about 15 minutes. Stir the chicken occasionally while cooking. Serve hot over rice. Rinse the chicken thighs and pat dry. Cut in half. Rub the salt and pepper over the thighs.

Peel and chop the onion. Peel and chop the garlic finely. Cut the red bell pepper in half, remove the seeds, and cut into 1-inch squares.

Combine the chicken broth, oyster sauce, soy sauce, rice wine, dry white wine or dry sherry, and brown sugar in a small bowl.


6) JUICY STEAMED DUMPLING

Ingredients:-

4 1/2 (500 g) cups flour, sifted
4 tsp soya sauce
4 oz (125 ml) sesame oil
2 tsp salt, or to taste
1 lb (500 g) lean boneless pork, minced
1/2 tsp rice wine
1/2 tsp fresh ginger, chopped
1/2 tsp sugar


Preparation:

1. Mix the pork with the soya sauce, rice wine, ginger, salt, and sugar. Stir in one direction until it becomes a paste. Add sesame oil and mix well.

2. Add 9 oz (250 ml) of cold water gradually to the flour and mix into a dough. Let rest. Turn out onto a flour board and knead until it becomes firm and elastic.

3. Knead the dough again and cut into 1/2 oz (15 g) balls. Flatten each ball lightly with your hand, then roll out each piece into a 3 inch (7 to 8 cm) circle, rotating the dough counter-clockwise while rolling so that the centre is slightly thicker than the edges. Place about 1 to 1 1/2 tbsp (20 g) of filling on each circle and pinch the edges together into 18 pleats. Place the dumpling in a steamer and steam for 5 minutes over high heat.



7) BEEF AND BEAN CURD IN CLAY POT

Ingredients:-

1lb Ground beef
1/4 ts Five-spice powder
1/2 c Cooked rice
2 tb Peanut oil
2 Sqs. bean curd
6 Fresh mushrooms
1 md Yam
2 c Warm water
2 tb Sherry
1/2 c dark soy sauce
1 ts Fresh ginger, minced
Cornstarch paste


Preparation:

Mix beef, rice & five-spice powder; form into firm 1" balls. Peel yam; cut into chunks. Cut bean curd into 1" cubes. Wash mushrooms; remove dried part of stem.

Cooking:
Heat wok until smoking and add peanut oil. When the oil is hot, braise meatballs. Add warm water, soya sauce, sherry & ginger. Bring to boil, transfer to clay pot, cover, and simmer for 30 minutes. Add yam chunks, bean curd & mushrooms. Cook uncovered for another 20 minutes until yams are done but still firm. Thicken sauce with cornstarch paste; boil briefly. Turn off heat, cover to keep hot until ready to serve.



8) RED DATE MOONCAKE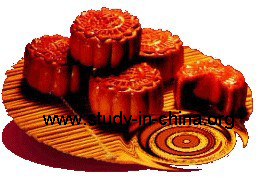 Ingredients:
Filling

250g red dates — remove seeds and steam till soft
300g red beans (chek siew tau)
200g sugar
50g corn oil

Preparation:

Blend the steamed and soft red dates with 400ml water into a puree and sieve out the impurities. Add the mixture to the red beans and pressure cook till the red beans become soft. Blend again and then use a muslin cloth to squeeze out any excess water, leaving only the dry paste.

Heat up the sugar and half the oil, stirring constantly. Add the red beans and dates paste and stir well. Add in the rest of the oil and stir until the paste does not stick to the wok. Dish up into a lightly oiled basin or bowl. Leave to cool.

Divide the paste into equal portions of 110g each. Add a salted egg yolk to each portion. Wrap up with pastry dough. Seal up the edges and place into a lightly dusted mooncake mould. Press slightly with the flat of your palm. Knock the mould against the table to dislodge the mooncake.

Bake mooncake in a preheated oven at 180 degrees C for 10 mins. Remove mooncake from the oven and leave aside for 2 mins. Brush with egg glaze and bake again for 8 mins or until golden brown.

Art

more
Yicheng Hua Gu
The Flower Drum 花鼓 of southern Shanxi Province is a kind of folk d...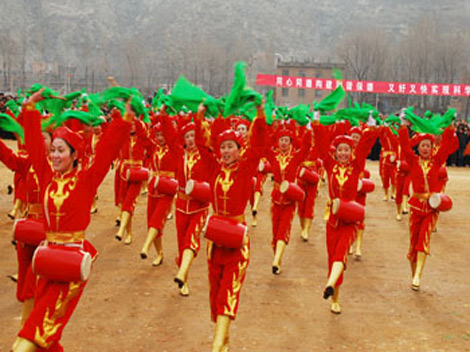 Sculpture in Qianling Mausoleum
The sculpture of Qianling Mausoleum is the main relic of the ground ...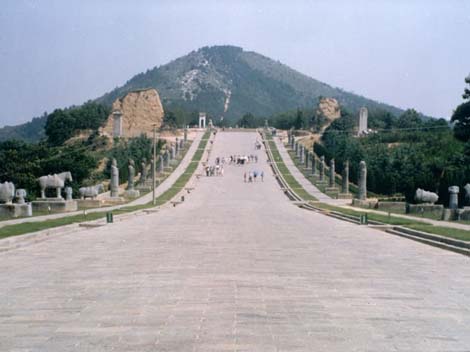 A Sweet Art:Sugar Painting
In and around China's southwestern Sichuan Province, it is usual to ...