Wedding Culture of Modern and Contemporary Times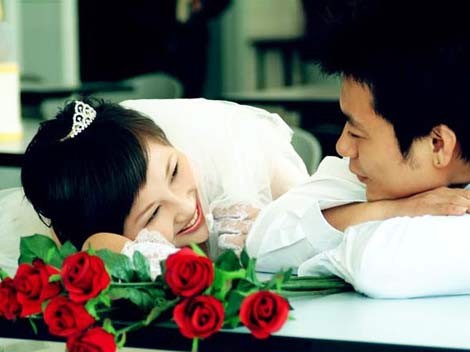 The Chinese wedding culture in modern and contemporary times has been undergone constant evolvements and innovations, presenting the characteristics of a rich combination of western and eastern cultures and both traditions and fashions. The followings are usually done in a wedding process: choosing wedding dress, taking photos, booking wedding car, arranging wedding dinner and inviting the guests. After the wedding ceremony, the newlyweds will enjoy their honeymoon in any destinations as the finishing of the whole wedding thing.
Shooting wedding photos has become indispensable to each wedding in modern and contemporary times. Usually, the bridegroom is dressed in trim suits while the bride in gorgeous wedding dress with beautiful jewelries. There are a large variety of wedding dresses, which are mainly categorized into the Chinese and western styles. The bright red of Qipao among all Chinese wedding dresses is the most festive and commonly chosen color, while in a western wedding, the while color symbolizing purity and loyalty has always been the first choice. The wedding pictures are usually hung on the wall after the wedding as a decoration of happiness and sweet marriage.
In ancient times, brides are usually sent to the groom's house in carriage, sedan chair or rickshaw, which are now replaced by cars. The cars or "wedding cars" driven on the wedding day are richly decorated with flowers around and red letters of "happiness" on windows. Some are ornamented with mascot or dolls on the front hood.
The wedding dinner is a banquet held for celebration of marriage. During the dinner, friends and relatives gather together to congratulate the newlyweds with blessings of eternal love and a precious son and give their gifts and red packets. The guests, in turn, will be treated with wine and cigarettes and wedding candies. The gifts and money received by the couple are recorded on a red-cover book for later reference of requital. The Chinese value highly the wedding banquet and regard it the ritual of marriage life. In some places, the wedding dinner is even held for three days and nights.
The first month after wedding is called honeymoon, which signifies the beginning of conjugal love. The custom was originated in Britain. The newlyweds often choose to travel in their honeymoon, through which they can enjoy their sweet and undisturbed life as well as the fun of traveling.
Besides the above said form of wedding, there are also individualized ones such as group wedding and tour wedding. The colorful modern wedding culture with Chinese characteristics is coming into being.