2012 Dragon Boat Festival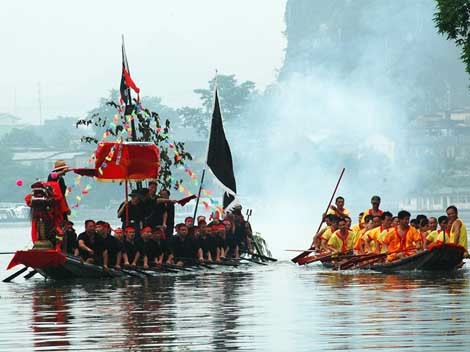 As a festival of the Miao minority, the Dragon-boat Festival is celebrated in the form of dragon-boat racing in the fifth lunar month every year. Similar to the Han people's custom of dragon-boat racing during the Dragon Boat Festival, it reveals that dragon is the symbol of auspiciousness and strength in the view of the Chinese.
Being approx. 20m in length and 1m in width, the dragon-boat is usually made by scraping several fir trunks into groove shape and tying them together. It is comprised of a mother boat and two barges at both sides. The fore is fitted with a large-sized dragon head, on the horns of which are written such auspicious words as "Seasonable weather for crop raising (Fengtiao Yushun)" and "Guotai Min'an" (means the country is prosperous and the people live in safety). The buttock called "Phoenix Tail" is inserted with fragrant grass. Both the fore and the buttock are raised above water surface.
The Dragon-boat Festival falls on the 14th day of the fifth lunar month and lasts till the 17th. The dragon-boat racing is usually held on the Qingshui River with fierce spectacle. Sailors will paddle continuously on their feet to avoid the dragon-boat to poise in the mid way and keep it moving at one fling to the terminal. The winner will be awarded a silk banner. After u-turning the boat, the wheelman will provide every tailor with a bunch of grass and fling them simultaneously into the river for the purpose of driving off evil spirits. It is an embodiment of witchery ceremony of the Miao minority. After the festival comes to an end, every village will be busy in slaying the fattest pig in the village to reward all villagers for their support to the festival.
Other than the dragon-boat racing, there are a wide range of folk-custom activities carried out during the festival. They include horse race, bullfight, sparrow-fight, Sheng-blowing (a musical instrument), the youth's singing in antiphonal style, traveling far and wide, and drum-trampling. All these activities are an embodiment of the wisdom, strength, bravery and solidarity of the Miao people and also, a revelation of the developmental course of the Miao minority's traditional culture.
Art

more
China Beijing International Diet ...
Recently, The hit CCTV documentary, A Bite of China, shown at 10:40 ...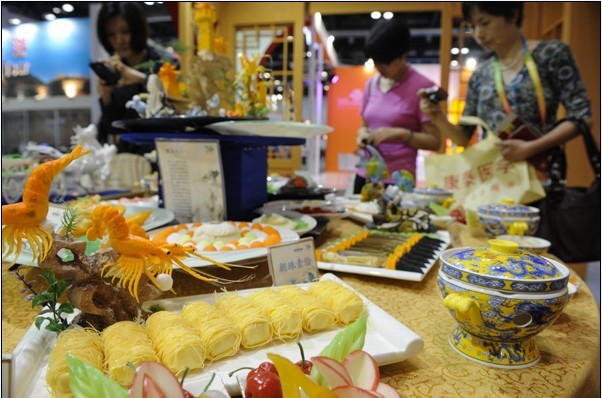 Exhibition of Ancient Chinese Jad...
At least 8,000 years ago, Chinese ancestors discovered a beautiful...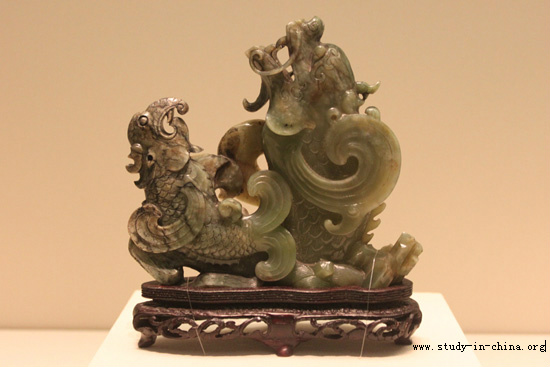 Longmen Grottoes
The Longmen Grottoes, located near Luoyang, Henan Province, are a tr...