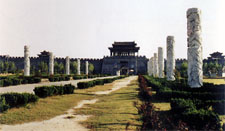 Population: 6,800,000
Area: 13,419 square kilometers (5,181 square miles)
Nationalities: Han, Hui
Administrative Division: 2 districts; 4 county-level cities; 9 counties; 1 autonomous county
Location: Located in the southeast part of Hebei Province, Cangzhou City is 240 kilometers (149 miles) south of Beijing and 120 kilometers (75 miles) south of Tianjin. To the east is the Bohai Sea, which separates the city from the Shandong Peninsula.
History: Cangzhou gained its name from its close proximity to the Bohai Sea. It was said to be one of main sources of the ancient legend that Pangu separated the sky from earth. Historically, successive dynasties had set up counties in this area. The famous Grand Canal zigzagged 220 kilometers (137 miles) through the territory of Cangzhou. These associations have left the city an abundance of culture and a large number of historical relics.
Physical Features: It lies in eastern Jizhong Plain. Its fertile soil makes it rich in agricultural resources. It also has two large oil fields, and the nearby sea yields an abundance of marine foods.
Climatic Features: Enjoying a warm-temperate continental monsoon climate, the city has well-defined seasons with moderate temperatures. It has an annual rainfall of 634 millimeters (25 inches) most of which falls in summer.
When to Go: Autumn is the best season to visit Cangzhou, as the winters are dry and chilly and the summers hot and wet.
Local Highlights: martial arts, acrobatics of Wuqiao County
Special Local Products: golden thread small jujube, pear of Botou City, preserved winter vegetables
Scenic Spots:
As the Hui ethnic minority make up nearly thirty-five percent of Cangzhou's population, Botou Mosque will provide a good insight into the lifestyle of many of the Cangzhou people.
The 3.8-meter-high (12.5 feet) Iron Lion with a thousand years of history is located in front of the former Kaiyuan Temple and is a symbol of the city.