British Young Man's Culinary Dream in China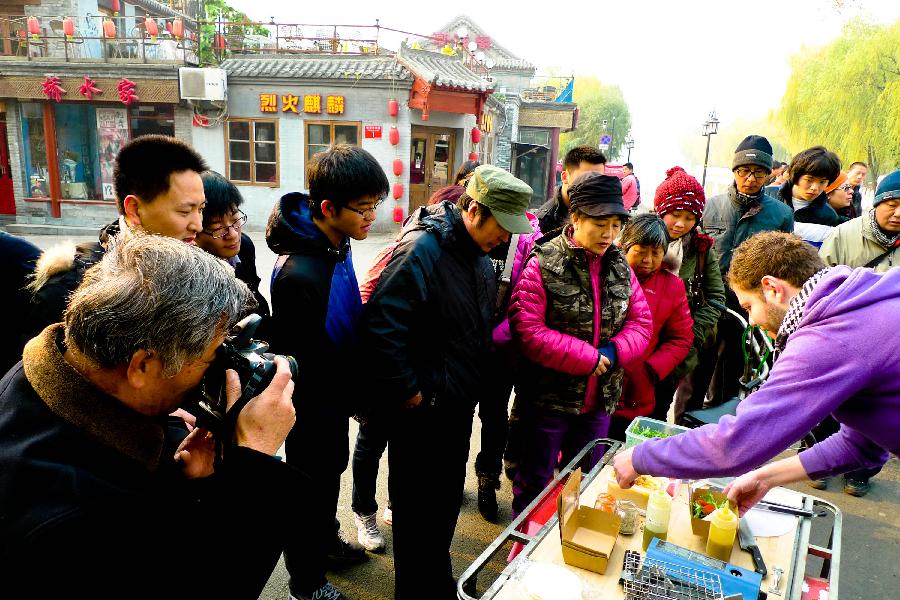 Jamie (R, Front) makes "pitta and hummus", an Arab snack, in Shichahai, a historic scenic area in Beijing, capital of China, Dec. 1, 2011. Among numerous street vendors in Beijing, Jamie Bilbow is the one that makes distinctions. Attired in a green army overcoat and white rubber-soled sneakers which give a tinge of China in the 1970s, the 23-year-old Englishman hawks "pitta and hummus", an Arab snack, on a tricycle that he wheels along Hutongs at the heart of the capital city.

A fluent Chinese speaker, he even composed a rhyming jingle to promote his business to the locals. At the age of one, Jamie moved with his parents from England to Hong Kong, where he lived for almost 18 years and developed an interest in cooking and the Chinese culture. Then he enrolled in the School of Oriental and African Studies (SOAS) at the University of London as a Chinese language major. "I felt I should have learned Chinese sooner," said Jamie, who only managed to learn some Cantonese but could not speak a word of Putonghua (Chinese Mandarin) when he left Hong Kong for University. Jamie came to Beijing shortly after graduation in 2011 to pursue his goals: to improve his Chinese and to become a chef in China.

To him, confinement in an office building in Britain is not the way life should be. "You have to go somewhere where you are different, where you can build success," he said. According to Jamie, his hummus business is not about making money. To him, the most enjoyable part lies in interacting with onlookers and see how they react. He also registered an account on Weibo.com, the largest microblogging portal in China, to update his street vending anecdotes. However, Jamie's non-scheduled street vending, which he would rather call "a fun project", is only a start. There's still a long way to go before becoming the chef of his own restaurant. At the same time, he gives English lessons to kids to support his living in Beijing. For the time being, Jamie decides to vend less because of cold weather and has started to make kitchen video clips instead. He has just finished one clip demonstrating the making of Spanish tortilla to the audience, whom he expects to be "anyone who wants to try something new", and published it on his Weibo page. Jamie hopes to convey two attitudes on cooking via his video clips.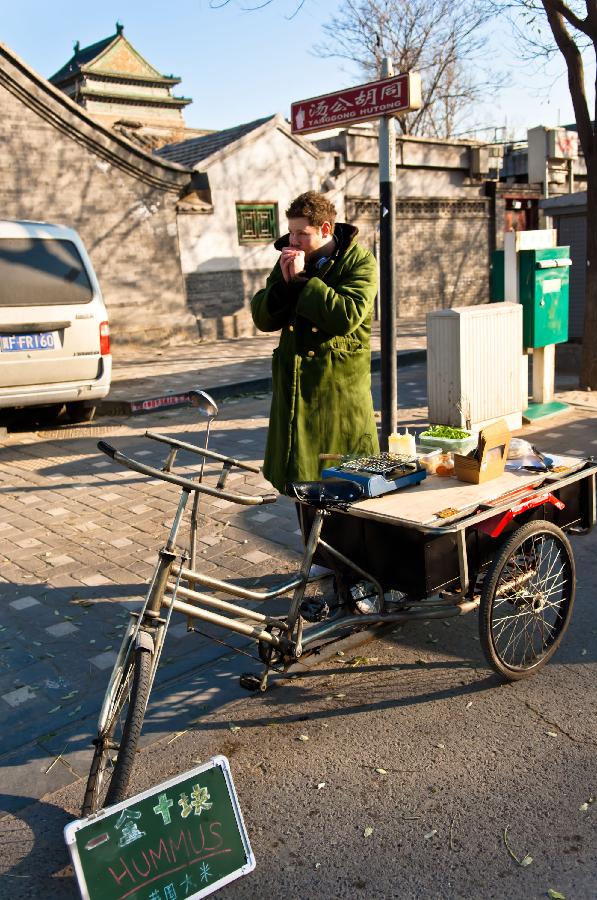 On the one hand, everybody can easily make good western food at affordable prices at home. On the other hand, he wants to appreciate the Chinese culture, and offers alternatives to western ingredients to make his recipes relevant. Jamie gives no sure remarks on the future except for one thing. "I will stay here and have a restaurant set up in China soon," he said, "If Beijing doesn't work, I'll move to Shanghai; if Shanghai doesn't work, then I'll try Shenzhen...."