The lost legacy: classical music art in Chinese ancient paintings
Accompany by the long history of China, Chinese classical music art is inherited by generations in thousands of years. As some part of the art has been developed and carried forth to the world stage, others had quited in the stream of history silently. And in the recent days, we could only find its mark in ancient books and paintings.
Every time when I examine an ancient painting with people playing musical instruments, I wish it could have the magic of Harry Porter's pictures and paintings where characters jump out to talk to him.

"Emperor Yongzheng Paying Ritual Visit to Temple of Agriculture"
At a time when recording machines were yet to be invented, melodious tunes were temporal and could not be heard beyond a certain physical space. Fortunately, people can turn to another art form to find the verve of music: paintings with live musical performances as the prime theme.
The painting "Emperor Yongzheng Paying Ritual Visit to Temple of Agriculture?depicts Emperor Yongzheng (reign 1722-1735) visiting the Temple of Agriculture in spring to pray for a bumper harvest year for his people. The worshipping ritual was ceremonious, and the road leading to the main hall was lined with top officials and court musicians holding a variety of musical instruments. They were playing Zhonghe Shaoyue, the music used when the emperors made sacrifices to the Earth, the Heaven, and in other spectacular occasions. It's a slow, grand, forbiddingly austere procession of sonorities. Confucius, in the Analects, calls it yayue—"elegant music"—and laments that the people of his time are discarding it in favor of vernacular tunes.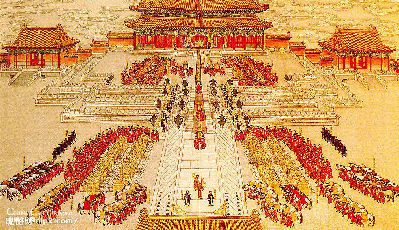 The grand wedding of Emperor Guangxu
Today, the same music is available at the Zhonghe Shaoyue Performance Hall, Temple of Heaven, Beijing. It's not recorded music but the real thing.
Zhonghe Shaoyue was also a must-have at the emperor's wedding ceremony. This painting depicts the grand wedding of Emperor Guangxu (reign 1875-1908) in 1889. The team of Zhonghe Shaoyue players, armed with a multiple traditional Chinese musical instruments, was standing in front of the Hall of Supreme Harmony in the Forbidden City, ready to usher in the elaborate pageantry of a wedding ceremony.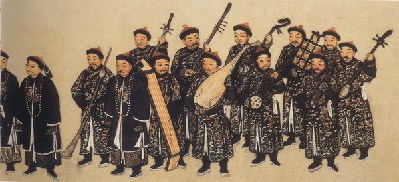 "Banquets at the Hall of Purple Splendor"
Another place for Zhonghe Shaoyue is court banquets. The painting "Banquets at the Hall of Purple Splendor?shows the magnificent banquet Emperor Qianlong (reign 1735-1795) gave to officials, Mongolian allies, and generals who contributed a lot in pacifying the turbulent western borders. The Hall of Purple Splendor (Ziguangge) is a two-story building west of the imperial palace on the western shore of the Central Lake. In addition to Zhonghe Shaoyue, two other musical teams were also present to demonstrate Emperor Qianlong's gratefulness as well as prestige. The Mongolian musical troupe was here to play their hometown melody, as the Mongolian ally was one of the major guests at the banquet. Outside the hall stood a troupe of ritual music players, displaying grandeur and stateliness.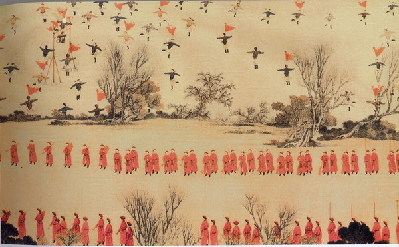 "Banquets at the Hall of Purple Splendor"
Court music impresses people with elegance and magnificence, while folk music is typical of illustrating an ordinary life.
It's part of the painting "Emperor Kangxi's Southern Inspection Tour,?a hand scroll that depicts scenes from the Emperor Kangxi's 1689 inspection tour from Beijing to the southern China.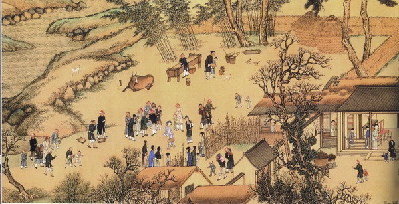 Part of "Emperor Kangxi's Southern Inspection Tour"
When travelling along the Qinghuai River in spring, Emperor Kangxi decided to wear plain clothes to experience and get to know public life. At a threshing floor, he was happy with the pastoral life his people were having when beholding a woman dancing while beating drums, attracting a large audience, young and old, men and women.
In this Qing painting, two men of the Miao ethnic group are playing Lusheng, a typical Miao musical instrument, while three women are dancing with hand bells.
Painting of "A Blind Singer "(Manggetu) is one of 120 pieces that Ren Xiong, the well-known Qing painter, drew for Yao Xie, then famous litterateur. In the painting, a blind actor was sitting under a canopy, singing while beating a drum with brackets. Another man was playing a trichord. Around them was an attentive audience, including women, children and seniors.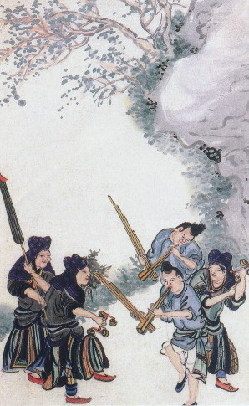 Part of "Emperor Kangxi's Southern Inspection Tour"
Paintings with musical themes go beyond bringing forth the court splendor or tranquil ordinary life. They can be poems of ancient Chinese literati, conveying their refinement and erudition. In ancient China, an educated man was supposed to spend hours occupying himself writing poetry, painting or doing calligraphy with melodious tunes lingering around. The painting "A Night Banquet at Peach and Plum Garden in Spring,?by Huang Shen in the Qing Dynasty, depicts a gathering of Chinese literati. A couple of scholars sat around a stone table under a pine, with some appreciating poems and still some boozing. Meanwhile, two female performers were playing musical instruments, creating an agreeable and urbane atmosphere.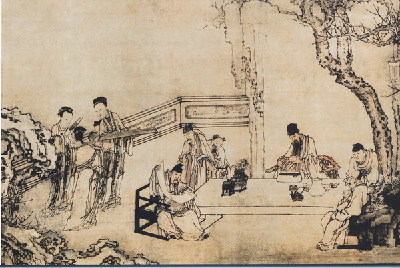 "A Night Banquet at Peach and Plum Garden in Spring"
These paintings are used not only to be seen with the eyes, but also to be heard with the ears. It's a pity that no recording machines were available to track those melodious tunes though, these paintings left behind a musical legacy that would be relayed generation after generation. They serve as a key for music development in the Qing dynasty, when one after another musical titans, including Joseph Haydn, Wolfgang Amadeus Mozart, Franz Liszt and Johann Sebastian Bach, sprang up in the West, championing the world of music.