Ping village: Display unique ethnic artistry
Ping village, Guizhou province in southwestern China, is a reclusive land in the mountains and crammed with people of color, verve and ethnic artistry.
The craggy topography surrounding Guizhou's provincial capital has, literally, been shaped by the local maxim: "Ren duo, di shao (Many people, little land)."
Nearly every inch of hillside around Guiyang that could be terraced has been sculpted into corbel steps sheathed in rows of maize and rice paddies.
Tucked into nooks and folds of these mountainsides are hundreds of villages, some of which are only a handful of houses strewn along the slopes like throws of dice.
And the inhabitants of these settlements, most of which belong to one of the province's 49 ethnic minorities, love visitors.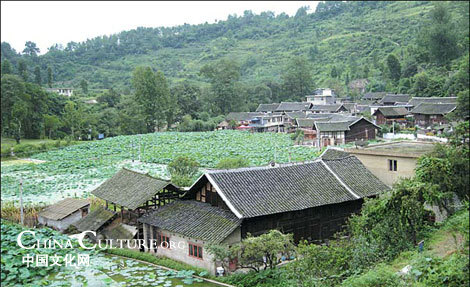 Traditional houses of Bouyei people are built around a large lotus lake in Ping village.
Less than 50 km from downtown Guiyang's forest of high-rises is a hilltop crowned with Qingyan village. The 600-year-old Han and Miao ethnic settlement is wrapped in a large stone wall built during the Qing Dynasty (1644-1911) that endows it with a grandiose air.
Upon passing through the gates, the scene becomes more charming than imposing. Traditionally styled buildings, some of which date back 600 years to the village's founding, are today small shops proffering traditional Miao handicrafts, local snacks and traditional alcohols - potent rose wines, rice wines and pear wines, which shopkeepers scoop out from large red ceramic urns.
Hundreds of years ago, the village was the lynchpin of a network for mabang - "horse gangs" of smugglers trafficking rare goods from exotic locales, including what is today Myanmar.
Because of such internationalism, the city today has a Taoist temple, a Buddhist temple and a Christian church.
The estate of Zhao Guoshu, the official who vanquished the invading army 140 years ago, has been transformed into a handicraft demonstration area. Inside, 10 artisans show visitors how they make their wares, which include lacquer goods, ornately carved bamboo flutes and Miao brocades.
In ancient times, aristocratic women would climb to the courtyard's balcony, from which they would throw a ball to the suitor of their choice among the bachelors gathered below.
Located an hour's drive from Guiyang, Ping village is accessed via a lengthy rope and plank bridge spanning the Qinglong River. The way the bridge sways violently during crossings induces a feeling similar to imbibing several cups of the local rice wine.
The Bouyei ethnic group settlement, located halfway up a mountainside, is home to 206 residents dwelling in 56 households and operating 11 restaurants - proportions that hint at the locale's ambitions of becoming a tourist haven.
But for now, the place remains far from commercialized, and song-and-dance performances are given for free by unpaid retirees looking to kill time.
The village's Party secretary Shao Zhilun says the village receives up to 5,000 visitors a week, less than 10 percent of whom are foreigners.
A picturesque lotus lake covers 31 hectares of Ping village, and visitors can stroll along a network of walkways built over the water. On the lake's banks stand rows of wooden and stone houses built according to traditional Bouyei architecture, that haven't changed much since ancient times.
On March 3 and June 6 of the lunar calendar, the village hosts a festival, in which single men and women from nearby settlements don traditional attire and descend on the town square in search of a spouse. An interested party sings an improvised love song to a prospective partner, who then responds if interested or ignores the crooner, if not.