Tips for Foreign Students Study in Shenzhen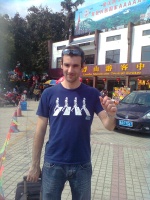 Limerick, Ireland
Sometimes being a foreigner in Shenzhen is the very definition of sticking out like a sore thumb. What can you do ? Like anytime you travel you must be aware of the tourist rate..This is usually a special rate reserved only for the unwitting traveller in a place he/she is unfamiliar with. In Shenzhen , this tourist rate can be significant and as I have lived here for a while now I shudder at the thought of how much I spent here initially - when I didn't know.

Taxis: Taxi drivers will take one look at your beautiful foreign cranium and triple or quadruple the charge especially if you are outside the Shenzhen checkpoints. Always push for 25% of what they are asking - somewhere in between you may get some value for your trip.Also, wine coloured taxis are usually metered whereas the green coloured ones are not !

Shopping in Shenzhen can be a real treat but here are some of the pitfalls you should watch out for: Watches are usually fake ( very good fakes) and they will charge you high street prices and even issue you with a guarantee card . The guarantee card is for their own shop so the original manufacturer will not honour it when you return home. Dvd's are nearly always pirated and their quality varies significantly.

Avoid buying Japanese gaming electronics. For example Sony PSP's are a Chinese imitation and can only power games from the 1990's. If you do want to buy one of these don't spend more than EUR30.00. Feel free to buy cameras - they usually are 100% genuine - but shop around.

All in all, you are better off buying a Chinese brand you have never heard of. You will support their economy and the quality of Chinese stuff is quite good. There are some fantastic deals to be had. Usually Chinese manufacturers base their ideas around products already in existence and then add to them by creating a similar product with more features.

I have heard many horror stories about the food here in Shenzhen and to be honest I would love to meet some of the people that have written them. In short - the food in Shenzhen is delicious. Shenzhen's population is comprised of many different people from all over China. ( If you ask any Shenzhenian where they are from , they won't say Shenzhen! ). As as result the choice of food is endless.

I am a particular fan of Hunan. Street vendors selling food provide womderful treats for RMB 1 or2 for when you are on the move. I have never been ill from anything I ever ate here , in fact, the only thing that makes me feel bad is McDonalds :)

Come to Shenzhen ? Yes, of course you should. Be smart in how you part with your money. If you have a local friend here then you are far better off but that doesn't mean you can't do it yourself.