How to Get one Job in China---Beijing policy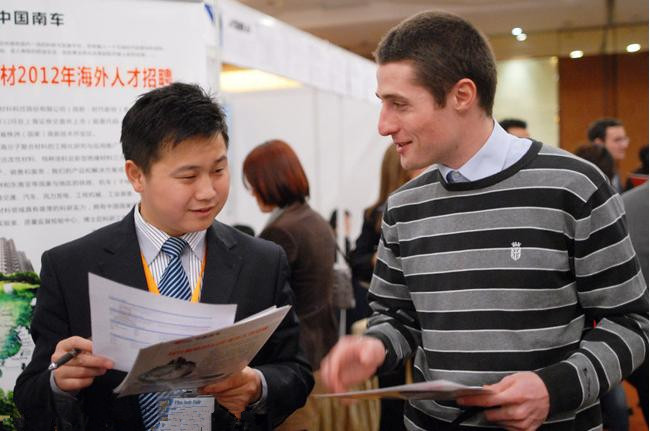 A foreigner, right, shows his job application form at a human resource market in Beijing in this 2012 file photo.
Beijing municipal authorities issued a decree on Sunday to further tighten foreign hiring requirements in the capital city, The Beijing News reported Monday.
The decree jointly released by Beijing Human Resources and Social Security Bureau, Foreign affairs office of Beijing and Beijing Municipal Commission of Education aims to improve the threshold for foreign workers.
Foreign employees in Beijing should be aged between 18 and 60, with a bachelor's or higher degree and at least two years of related work experience, the decree said.
If with no diplomas, foreign employees working for key, high-end technology research must have foreign technical qualifications.
Foreign workers to be employed after Oct 3 to teach languages in pre-primary education institutes, schools and private education institutes should have Chinese teacher certificates or International language teaching qualifications, include Teaching English as a Foreign Language (TEFL), Teaching English as a Second Language (TESL), and The Teaching Knowledge Test (TKT).
Those who teach disciplines other than language studies should have at least five years of related working experience.
Also, all foreign employees should be healthy and have no criminal record. They need to have a valid passport or other international travel documents, a work permit issued by Chinese human resources and social security officials, and a residence certificate.
For those who work for Beijing's talent programs that boost the city's innovation capability, such as the Thousand Talents Program, the age limit is extended to 65 or older.
Currently about 37,000 foreign staff work in Beijing permanently, and they mainly come from the United States, Japan, South Korea, Germany and Australia, engaging in information technology, computer, education and consultation business.
Chinese police, together with human resources and social security officials, will keep an eye on foreign employees, and those who can't meet the above requirements will be punished along with their employers and people or agencies who introduced the job, added the decree.
The Beijing News reporters found English teachers in the city's major language training institutions, such as New Oriental and EF, are required to have teaching certificates such as TEFL, and working experience. But some smaller institutes don't have such requirements.