China, Brazil Push for Closer Bilateral Ties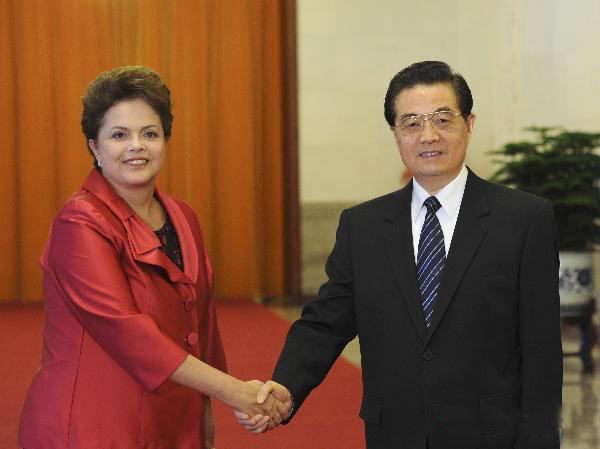 China and Brazil on Tuesday clinched a host of government agreements and economic deals in Beijing to push for closer bilateral ties as Brazilian President Dilma Rousseff paid her first state visit to Beijing.

After two-hour-long talks in the Great Hall of People in Beijing, Chinese President Hu Jintao and Rousseff witnessed the signing ceremony of eight cooperative agreements in areas like defense, technology and sports.

The two countries also announced that they have inked 13 economic deals during Rousseff's visit, her first state visit to China since she took office in January, which include a purchase order for 35 Brazil's Embraer 190 commercial jets.

The two heads of state also signed a joint communique at the signing ceremony, highlighting their "broad consensus" on areas ranging from trade to global governance.

"The two sides should maintain trade ties in a healthy and stable way and enhance cooperation on areas like trade, investment, energy, mining, infrastructure and finance," Hu told Rousseff.

Hu also urged stronger high-tech cooperation between the two countries, calling for cooperation on areas like clean technology, biotechnology, nano technology, information technology and space technology.

Besides, Hu called on the two countries to deepen strategic trust by expanding exchanges and to conduct personnel and cultural exchanges to facilitate friendship between the two peoples.

Rousseff hoped that "Brazil-China ties could see a qualitative leap" by advancing bilateral strategic partnership and promoting exchanges and cooperation in such areas as trade, investment, finance, technology, agriculture, infrastructure, mining and culture.

Closer trade and economic cooperation has been high on the agenda during the China visit by Rousseff, accompanied by a 300-strong business delegation.

While attending a seminar between entrepreneurs from China and Brazil earlier Tuesday with Chinese Vice Premier Wang Qishan, Rousseff called for a "more vigorous, diversified and balanced" relationship.

"We should increase the percentage of high value-added product in bilateral trade," said Rousseff.
The joint communique said China will encourage companies to increase imports of high value-added products from Brazil. Brazil reaffirmed it will rapidly deal with its commitment to recognize China's market economy status according to terms of the two countries' joint action.

China was Brazil's biggest trade partner in 2009, with bilateral trade exceeding 56 billion U.S. dollars in 2010. That year, China also became Brazil's largest investor.

On broader China-Brazil ties, President Hu and Rousseff agreed to further their strategic partnership, which was established in 1993. Brazil was the first developing country to establish strategic partnership with China.

"China-Brazil strategic partnership has become an example for South-South cooperation," said Hu.

The two heads of state also agreed to strengthen coordination and cooperation in international arena.

China and Brazil have extensive common interests on international and regional issues and shoulder increasingly more common responsibility, said Hu.

Hu said that China would enhance strategic coordination with Brazil in international affairs and better deal with global challenges like climate change and sustainable development in a bid to push forward the world political and economic order in the direction of benefiting the developing countries.

Rousseff said her country would like to see more coordination with China on such issues as trade, finance and environmental protection as well as within the framework of such multilateral organizations like the United Nations and the G20.

Rousseff said the two countries should make joint efforts with other developing countries to make contribution to promoting multilateralism and sustainable development, safeguarding world peace and establishing a just and equal world order.

Rousseff will also attend the third BRICS summit, grouping leaders from Brazil, Russia, India, China and South Africa, and the annual meeting of the Boao Forum for Asia to be held in China's southern island province of Hainan.