Study in Guangdong
Study in Guangdong Province
...........................................................................................................................................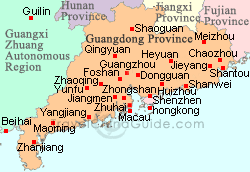 Study in Guangdong
Guangdong Province is situated in the southern part of China mainland. It adjoins Jiangxi and Hunan provinces to the north, Fujian Province to the east, Guangxi Zhuang Autonomous Region to the west and to the south across the Qiongzhou Strait is the island Province of Hainan. Guangdong province covers an area of over 180,000 square kilometers (69,502 square miles) and has permanent population of 74,730,000. It also has 3,368 kilometers (1,300 miles) of winding coastline, which is the longest in the country. Rivers from all over the province meandering through the fertile Pearl River Delta discharges into the South China Sea at the half waypoint of the coastline. The Pearl River Delta is one of China's most densely cultivated areas. Situated right at the top of this river delta at the confluence of the North River, East River and West River is the provincial capital city of Guangzhou, which was formerly known as Canton to the western world.
History
Guangzhou is an ancient city with a history of 2800 years. It is named 'the spring city' because with long summer the city is always with green plants and blooming with fresh flowers all years round. Myth legend tells of Guangzhou was founded by Five Immortals riding five rams, each ram planted a stalks of rice grain which symbolizes abundant of harvest or prosperity. And this is how Guangzhou got its nickname, 'Yang Cheng' literally means 'Goat City'. Guangzhou provides traveler with their first taste of mainland China, thus resulting in also been the first place of mainland China where foreign influences enters into the country.
Guangzhou is also the main communication center of Guangdong with generous amount of railways, highways, bridges, multi levels of flyovers and labyrinth of waterways. Ferries are still very much in use as a mode of transport, which also provides river excursion. With so many types of transport, it's not difficult to go to other places, towns and other areas in Guangdong Province.
What to see
Guangdong has many picturesque tourist places of attractions. No matter be it a natural scenic spot, a historical or cultural site, it has its own highlight and interest. Here, each tourist can find what he or she wants to see. If you want to appreciate the beautiful natural landscapes, you can go to climb Guangdong's four famous mountains. They are Danxia Mountain in the north, Xijiao Mountain at the South China Sea, Luofu Mountain in Boluo and the Dinghu Mountain in Zhaoqing. Ancestral Temple of the Chen Family, Sun Yat-sen Memorial Hall, Yuexiu Park, Baiyun Shan (White Cloud Mountain) and the Pearl River water front could be enjoyed in Guangzhou.

Up North by the Hunan and Jingling borders is the Nanhua Temple in Shaoguan. Journeying to the east from Shantou you may see much beautiful countryside scenery. To the west may lead you to Guangxi Province with picturesque lakes and hill landscapes. At the south is China's Special Economic Zone with the two well known cities of Shenzhen just north of the former British colony of Hong Kong and Zhuhai on the border with the former Portuguese enclave of Macau. At Shenzhen, you can complete a round-the-world trip in one day by visiting Splendid China and Window of the World. It exhibits collection of scale models of the world's famous structures or monuments such as the Great Wall of China, the Eiffel Tower of France and many others. Downtown in Shenzhen you may find the China Folk Culture Villages. This folk culture village introduces to tourist the different natural conditions and social customs of all the various Chinese ethnic groups. Different colorful ethnic group cultural dances and performances were held at every interval of thirty minutes. Besides that you may also get to see some arches, pavilions, huts and paintings on rock.

For sports enthusiastic people, there are some golf courses built with international standards in Zhuhai, Shenzhen and other cities. You can also have much fun in some excellent beaches existing along the thousand kilometers of coastline.
When to go
Guangdong has a subtropical climate. Summer can be sweltering hot and wet. Typhoon hit this province frequently in summer and autumn. Annual rainfall averages nearly 1500-2000 millimeters and annual temperature averages 19C - 26C. So the best time for travelers to Guangdong is in spring and autumn.
Guangdong is famous for its fine gastronomy Cantonese cuisine. Many returning oversea Chinese would enjoy dinning in the various restaurants. All in one words Guangdong is graceful and charming. The bustling markets, the brightly lighted night fair, the Cantonese restaurants and tea house that can be found everywhere and the wholeness of it tells you, the full essence of Guangdong Province. What you have to do is to visit, experience and relish it.