Ni hao ma?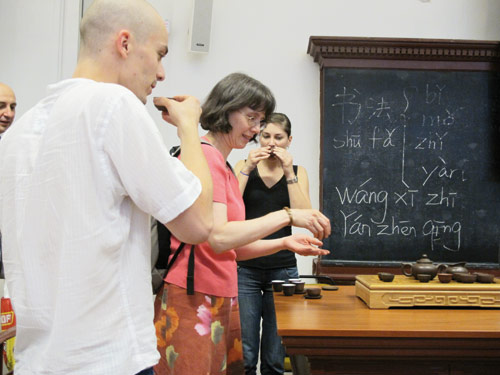 Students drink tea in a Confucius Institute class at Eotvos Lorand University.
Italian Alessandro Baccarin, 15, in black robes and Feiyue shoes, a Chinese brand from the 1920s, performs martial arts with a sword.
"I like China and the Chinese. I became a huge fan of Jackie Chan and his kung fu movies when I was 7," says Baccarin in fluent Mandarin, from Pigafetta High School, Vicenza, Italy. He started to learn Shaolin-style kung fu and the Chinese language four years ago.
In 2006, Pigafetta High School became the first middle school in Italy to offer Chinese-language courses. Its Chinese-language teacher, Marta Nori, says just 13 students took the course, initially, but there are now nearly 200 students learning Chinese and the number may jump to 250 in 2013.
Hu Zhiping, deputy director of Hanban (Confucius Institute Headquarters), which is affiliated with the Chinese Ministry of Education, says more than 40 countries have made learning Chinese part of the national educational system.
"The Confucius Institutes play an important role," Hu says.
Nori teaches Chinese language, history, literature and philosophy at the school, together with a Chinese teacher, and a new instructor sent by the Confucius Institute.
"The institute supports us greatly in language and culture teaching, offering us books and opportunities to go to China via Hanban's programs," she says.
Hu Chunshuang, the other Chinese teacher from the school, says: "Some Italians think they may have more job opportunities after learning Chinese, because there is a lot of trading between the two countries."
However, Nori says there are many difficulties, such as few opportunities to speak the language and the relative inexperience of the teachers. Similar schools in Europe include one at the Chinese-Hungarian Bilingual School in Budapest, which opened in 2004.
"My favorite country is China because the Chinese treat me very well. I often join the Confucius Institute's activities such as culture lectures," says Khalid Yousif Salwa Sami, 15, who has learned Chinese for five years.