Sepcial Report----Doctor Inspires Others at Quake Site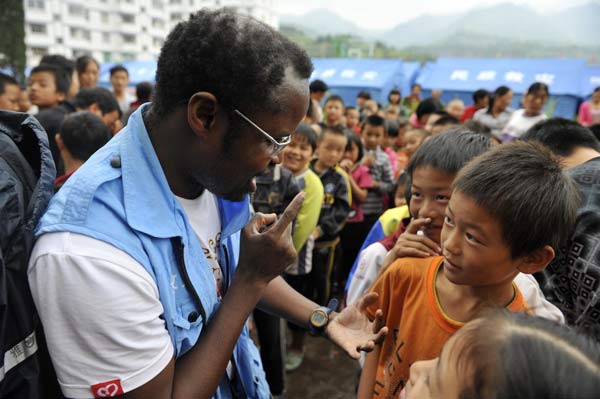 Diarra Boubacar, a 48-year-old volunteer from Mali, talks to children on Wednesday at the Xinchang Middle School in Yiliang county, Yunnan province.
Speaking fluent Chinese, Diarra Boubacar attracts a lot of attention at the volunteer camps and relocation sites in Yiliang county, Yunnan province.
Boubacar, a 48-year-old Malian who works and lives in Kunming, capital of Yunnan, as an international doctor, arrived in Yiliang the day after earthquakes hit the county on Friday.
As a volunteer, he is more conscious than anyone else what his status could bring.
"People might think I come here for more important purposes than volunteer work. I am not eager to correct them. I speak with my actions," he said.
"Or perhaps my presence here could also act as some sort of motivation, as other people might think: 'If a foreigner is here to help, why can't I'?" he said.
His first job in Yiliang was to go to the earthquake epicenters and assess the damage caused by the quakes and aftershocks.
"Assessment is important because we need to know what people need and what needs to be done first. Then we can ask for help through our online platforms," he said.
Through a study of the areas where the earthquake hit hardest, Boubacar concluded that care for the children is most urgently needed, as the local government has already provided food and water.
"Children are the most vulnerable group in natural disasters. The scars could be long-lasting, but could be alleviated through professional aid," he said.
Boubacar's team managed to raise funds from a company and a foundation and bought hundreds of school bags for the children in the quake-hit areas. Inside the school bags are a cup, three towels, toothpaste and a toothbrush, mosquito repellent, books, and a brochure that offers detailed illustration of survival skills in case of earthquake and mudslides.
Boubacar came to China in 1984 to study medicine. But he decided to focus his study on traditional Chinese medicine a year later. He got his PhD in traditional Chinese medicine in 1991 at Chengdu University of Traditional Chinese Medicine. He is a registered expert at the State Administration of Foreign Expert Affairs and is a member of the medical humanitarian organization Doctors Without Borders.
However, in Yiliang, titles have no value other than to give him the expertise to conduct rescue work.
"I came here to offer my services. Since I am not part of a medical team, I can do anything that is needed," he said.
At one of the relocation sites on Wednesday, Boubacar easily blended with the children that were lining up for school bags. He would make jokes with each of them and ask them their names. He later dispersed the crowd when it started to rain.
"Get the children inside the camps. The school bags would not be of too much value if the children ended up catching a cold," he shouted.
Zhu Liya, another volunteer who works with Boubacar, is impressed by Boubacar's work ethic.
"It feels like he is more native than any one of us. He knows the roads better. He has a stronger sense of responsibility, and he is the one fills the work environment with laughter," she said.
Zhu said Boubacar would crawl in the mud to help a vehicle that got slumped in the mud or offer therapies to the granddaughter of his landlord at the hotel who has been diagnosed with cerebral palsy.
Boubacar said he was influenced by his father, who was a member of the International Committee of the Red Cross, to be a volunteer.
"When a war broke out in countries near Mali, my father was there despite the dangers. I decided in my childhood to follow in his footsteps," he said.
His earliest volunteer experience in China was in 1998, with the flooding of the Yangtze River.
Having participated in the voluntary work of several natural disasters, Boubacar said he has witnessed a maturing response system, especially in terms of medical rescue.
However, in his eyes, the local authorities still have a long way to go in working with non-governmental organizations.