Little Confucius Talk with Foreign Confucius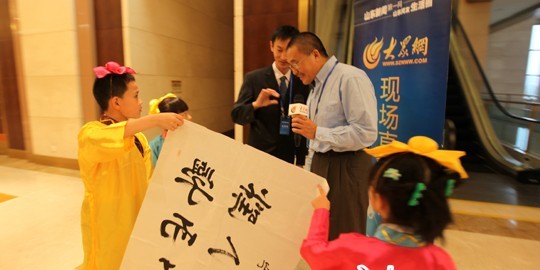 Nearly 100 educational experts from more than 20 countries around the world gathered together. As renowned specialists of global literacy and universal education, they were considered as foreign "Confucius", among them three recently won the 2012 UNESCO Confucius Prize for Literacy. Bearing the feelings of excitement and admiration, they set foot on the land of the great educator Confucius's hometown Jining Shandong, and received a special gift from three students of Daming Lake Elementary School who wearing traditional Chinese clothing. The two sides also carried out an enthusiastic dialogue on the topic of "Confucius".
At 2:00 pm September 26, the UNESCO International EFA seminar was held in Jining Shengdu International Convention Center, UNESCO officials and nearly 100 educational experts from more than 20 countries around the world gathered at the 2nd floor conference room to discuss the promotion of international literacy and universal education plans. Three winners of the UNESCO Confucius Prize appeared compelling. They are Mr. Tshewang Tandin from Bhutan, Asia; Ms. Maria Aurora Carrillo Gullo from Colombia, Latin America; Mr. Merck Tal Hamuduoni from Morocco, Africa. Their participation in the three winning projects has made an outstanding contribution in the field of global education and literacy in rural areas and in the field of women and children education.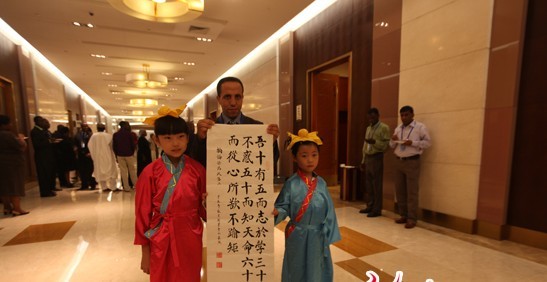 At 5:00 pm, the International Symposium came to tea break, three representatives of prize winners and education experts from around the world stepped out of the meeting room one after another. Much to their surprise, three students wearing Hanfu from the traditional cultural and educational elite—Daming Lake Elementary School, Jinan City, Shandong Province, have long been waiting outside the meeting room. They respectfully bowed to salute and presented a gift—
Confucius quotes calligraphy written by them.
"Confucius is one of the greatest educators in the world, as an admirer of Confucius, I am very proud to receive the UNESCO Confucius Prize!" said Ms. Maria Aurora Carrillo Gullo excitedly. Much to her happiness, once setting foot on the land of the hometown of Confucius, she received such a precious calligraphy of sayings of Confucius, and she was very grateful to the three "little Confucius" from Shandong.
Meeting with three educated and lovely "little Confucius", Mr. Tshewang Tandin and Mr. Merck Tal Hamuduoni were happy too. They held calligraphic works to have a photo with three "little Confucius". To show his gratitude, Mr. Tshewang Tandin also presented "little Confucius" a gift from Bhutan—a fine magazine on education.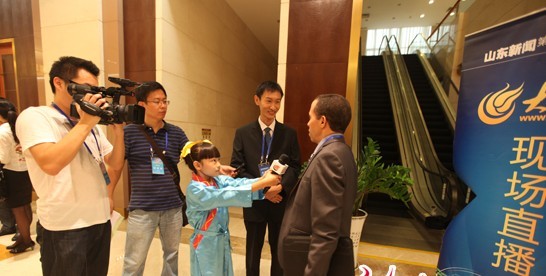 The appearance of three "little Confucius" wearing Hanfu made educational experts from different countries attending the International Symposium surprised and excited. They came up with cell phones or cameras, eager to take pictures of "little Confucius", or hugged them to take photos together. Everyone's face is filled with joy and excitement. Soon the three "little Confucius" became "big star" at the outside of the conference room.
At the seminar, the three winners' representatives have been called "foreign Confucius", because they won the "Noble Prize" on education with their remarkable achievements in the global educational literacy. Wearing Hanfu, three "little Confucius" became the stars at the outside of conference room. "It's really a blessing that 'little Confucius' met with 'foreign Confucius' across time and space!" said Mr. Xiang Chunping, who was responsible for the administrative work of the conference.