Big Advantages for Foreign Students and Workers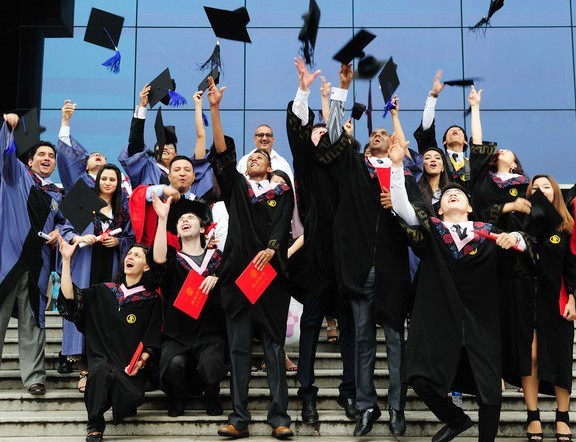 John Zhang became frustrated as his North American client suggested he recruit 700 more workers. "They said we could even hire up to 1,000," he said. "But we just can't."
Zhang is president of New Choice Ltd, a privately owned company in the Xi'an Hi-Tech Zone that works with US companies that outsource IT services.
"It's not like adding one desk here and another there. It is an operation demanding input from up to 60,000 people. Even with all the resources available in Asia, it still cannot be outsourced completely," he said.
"I can get a bigger share of the pie if I'm confident I can. But look," he said, pointing to the company's main office, filled with spectacled young workers staring at their computer screens. "This is all we got. I don't have space anymore. The whole software park (a section of the XHTZ) has run out of office space."
As Zhang was enjoying his business growth, exporters in coastal cities were complaining about their low margins and screaming for government bailouts.
Proprietors of many brick-and-mortar companies were closing down their shops, complaining that it was getting increasingly difficult to make money.
How can Zhang, operating from a hinterland city more than 1,000 km from a seaport, be so fortunate as to be urged by his overseas clients to look for more workers?
In fact, Zhang's company was not even the first choice for his US partner. "They went for companies in some coastal cities first," he said. But as time went by, New Choice learned to do more, thanks to the IT engineers Zhang could find in the city and their ability to develop reliable solutions.
And the more the company learned, the more tasks it could perform, and the more orders it could clinch.
Education resources
"We have a good place to run our company," Zhang said. Of all cities in the Chinese mainland, Xi'an ranks third in higher-education resources, behind only Beijing and Shanghai. Many of the universities are strong in engineering disciplines.
In recent years, the city has developed China's largest cluster of new colleges of a non-State background by blending local private capital and its large number of retired educators.
None of the private capital-supported colleges can compete with the large State-owned ones for academic fame. But that actually helps them concentrate on developing so-called middle-skill people.
"Though called 'outsourcing services,' a trendy name, our task is just to help our partner with their household chores," Zhang said.
Here, on one hand, you need computers and broadband to function. But on the other, the job is by nature not suitable for the kind of talent required for more independent and creative work.
The job is to deliver - and to meet all the requirements as set forth by the clients. And that is typically the job for middle-skilled workers. With the abundant supply of college graduates it can find in Xi'an, the company can always manage to deliver - not only to meet those requirements, but with "a lower error rate".
A lower error rate is the key, Zhang said. "For clients, it means a guaranteed satisfaction rate. And for us, it means lower costs, too," because that saves the trouble from going over the process time and again to find out where the errors are. "We have good people to depend on here," he said.
Housing prices a plus
Being in Xi'an has other advantages, Zhang said.
"You need an environment where you can not only find a lot of young people with college credentials but without so many attractions or distractions. People don't easily settle down with us if they keep looking for excitement," he said.
In contrast, in first-tier cities like Beijing and Shanghai, constantly rising housing and food prices drive young people to always seek larger firms and higher pay.
"You come in, sit down, finish your job, go home and enjoy your time with your family - that would be the kind of workers we feel most comfortable with," he said.
One example is his day-shift executive assistant, a young man that Zhang just promoted after he worked as a night-shift team leader for three years. The assistant graduated from Xi'an Huaxi University, a university funded by private capital and little-known to people outside of Shaanxi.
When asked whether he earns enough to buy an apartment in Xi'an, he said "yes". And that would be around 7,000 yuan ($1,120) per square meter, if not more.
By comparison, residential housing prices are no lower than 30,000 yuan per square meter in Beijing, and would easily be double that in Shanghai.
When asked whether he, with his work experience, could easily find another job in the city, he replied that he could. "But doing so would be meaningless because it's hard to find higher pay for someone my age," he said.
Indeed, among most large cities in China, Xi'an is unique in that a university graduate can still hope to earn enough in a few years to make a down payment for his or her own apartment.
Housing prices are still low and comparable to a coastal county town, thanks in part to the rapid disappearance of the city's nearby farms in the last couple of years as sprawling housing projects go up.
Most people in China's northwestern provinces still take job security more seriously, said Chen Hui, chief executive of the XHTZ administrative committee. Compared with coastal cities, the turnover rate of company staff is "noticeably less rampant" in Xi'an, he said.
Chen said the municipal government is trying to build more conveniences to the city's young workers, including subways and new office buildings, he said.
For New Choice, XHTZ officials had promised that the lack of office space will soon not be a problem. There will be new buildings in the software park in 2013, although some will be quite far away from the company's present location.
Other concerns
But Zhang also has other concerns that are new to the ancient city of Xi'an, and cannot be easily dealt with even with government help.
"Should I let the company grow so large so quickly? Should I just hire 700 more people once I get the office space?" He shook his head.
"The foreigners don't know what a different generation of workers we have now," the self-made IT company leader said.
"I mean the post-'90s generation. They are not the kind of people I used to work with. Can I manage them as well as I managed the elder workers? I doubt it."
Even in Xi'an, a landlocked city with highly visible signs of its old tradition, a quiet revolution is underway, with more self-centered college-educated young workers entering the companies that used to run themselves like big families or disciplined army units.
"A guy said his scalp felt itchy because he had been too busy and not taken a proper shower for three days, and then he just left. Quit the job, I mean," Zhang said. "I was dumbstruck, having never seen a worker like this before."
He said he can't access any useful service in this regard in Xi'an right now - no consultants are available in either human resources management or workplace psychology. And without adequate experience or professional assistance, he said, he is in no hurry to build up a larger team and to grab more deals.