British Council launches campaign for 15,000 UK students to go to China
The campaign aim is for at least 15,000 UK students to either study or gain work experience in China by 2016. Underlining the British Council's on-going commitment to promoting international opportunities to students across the UK, the goal of Generation UK is to create a new generation of more globally, culturally and business aware young people.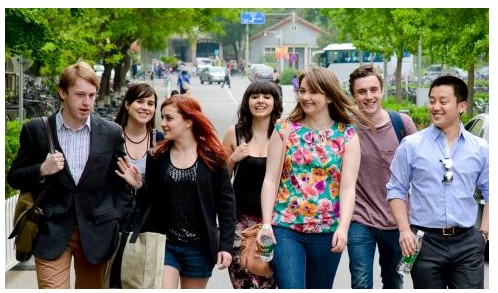 The most recent figures suggest about 3500 UK students studied in China in 2011. Generation UK aims for this number to increase by at least a third by September 2016.
Generation UK will provide the practical support for UK students to study and work in China, through academic scholarships and funded internship placements, as well as widening a network of support for students to engage with China. The campaign is set to encourage global perspectives and a competitive advantage in skills developmentamong UK students, and to help shape them into international citizens and ambassadors for the UK.
Speaking at the launch, Martin Davidson, Chief Executive of the British Council, called on the UK's business community to support Generation UK as a means of ensuring the long-term competitiveness of 'UK PLC'. Mr Davidson commented: Business leaders have told us many times that they fear for the UK in a global economy if our young people do not gain international experience and skills. This campaign is designed to provide that. Currently the UK lags far behind other nations in terms of young people's outward mobility. We can only address that challenge if our business and education leaders can work together. This is where we need to start".
As part of the campaign, the British Council aims to further expand both the amount and variety of scholarship opportunities available for UK students to study in China. The 2013/14 British Council China Scholarship marks the first phase of Generation UK's academic scholarship strand, with more support for academic study to be announced later this year.
Further opportunities for UK students to engage with China will be announced this summer when the internship strand of Generation UK is launched. Two month funded internship placements will be available across China for students to gain practical work experience and skills for global employability.
Supporting careers advisors in their understanding of international opportunities is the third key strand of Generation UK. In March 2013 the British Council in China arranged the 2013 UK-Career Advisers' Mission to China. This trip laid the foundation for career advisers representing UK institutions to better understand the opportunities here in China, and to explore the possibilities of future collaboration in the form of internship placements and graduate trainee programmes. Working in collaboration with UKTI and the British Chamber of Commerce in China, the British Council will continue to facilitate links between industry in China and UK institutions.
Discussing the wider impact of the campaign, Joanna Burke, Director of the British Council China said: "Student mobility between the UK and China has never been more important as it is today; this is where Generation UK will play a crucial role. We want this campaign to encourage students in the UK to take a more global perspective and become more internationally and culturally aware. In a time of great economic uncertainty, the benefits of gaining international experience are hard to overestimate and it is a vital step that needs to be taken in order to keep the UK competitive. This is something we hope to highlight as part of the campaign."
"We've been operating in China for ten years and we strongly believe that there should be a better engagement between the UK and China," said Paul Atherley, Managing Director of AIM listed energy development group Leyshon Resources. "As China emerges as the world's biggest economy, the UK needs to understand more about how China operates – it's a great opportunity for young people to come and engage and find out what's happening here."
Phil Baty, the editor of Times Higher Education World University Rankings, said: "China has some of the most exciting and dynamic universities in the world – with many rising rapidly up the global league tables, boosted by extremely generous funding by Western standards and a commitment to high standards of teaching. And the leading institutions there are actively seeking to improve their campus diversity and recruit more international students, so they are putting out the welcome mat.
"In terms of their global prestige, the leading Chinese institutions are right up there among the best in the world: Peking University, in 46th place, and Tsinghua University, in 52nd place in the latest World University Rankings are well ahead of some very popular UK household names such as King's College London (57th), Bristol (74th) and Durham (80th), and many more Chinese institutions are earmarked for special funding to help them rise up the rankings.
"And with employers increasingly looking for 'global citizens' with some international and multi-cultural experiences, especially from the new economic powers, a Chinese university experience would also look extremely impressive on any CV. China is an enticing and viable option for UK students."
Following the launch, a Generation UK road show will bring the campaign to London, Cardiff, Manchester, Edinburgh and Belfast. During the five workshop sessions, Generation UK will be introduced to university staff in order to provide them with a full picture of the campaign and how universities can get involved. A road show aimed at students will take place later this autumn.
The British Council China is grateful to the Department for Business, Innovation & Skills and the Department for Employment and Learning Northern Ireland for their support and sponsorship