The 3rd Exchange Students Programs Publicity Held at Three Campuses
The 3rd Exchange Students Programs Publicity was held by Office of International Exchange and Cooperation (OIEC) in Baoshan, Baiyun and Huaxi campus from April 12th-13thand about 200 students attended.
GZNU started its students' exchange program in 2004 and in the last dozen years over 500 students have benefited from it. This year, Programs in America, Britain, Portugal, South Korea, Japan, Malasia, Russia and Thailand etc. were introduced to students from different schools.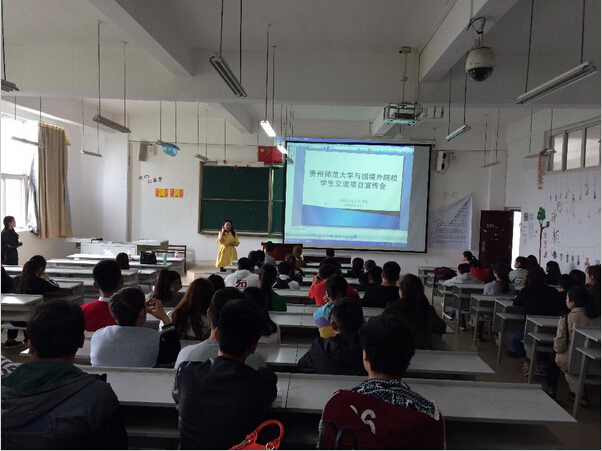 (Photo/Liao Xu)
In her opening remarks, Ms. Chen Yuexi, Chief of International Exchange Section of OIEC, extended warm welcome to all the participants and noted that this annual publicity meeting provided a platform for all students on gaining overseas studying experiences.
"As an exchange student you will have the opportunity to study abroad for a short or long period of time, which will improve your professional knowledge and skills as well as understanding of exotic cultures. We'll encourage every qualified student to apply for an appropiate university." She said.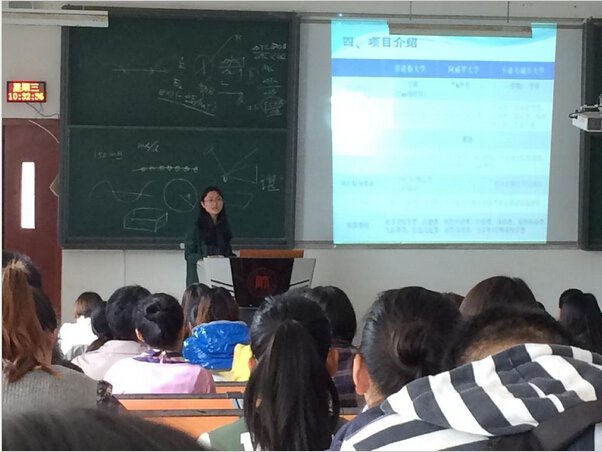 (Photo/Liao Xu)
Ms. Liu Zecun and Ms. Liao Xu, program officers of International Exchange Section, gave detailed program information lectures to all attendees, such as the university's overview, exchange students' activities, application requirement etc.
"The lectures are very impressive and I really expect to have such an opportunity to study abroad and experience those activities by myself in a different university." a student from Huaxi Campus said excitedly.

If you'd like to apply for this university,please feel free to contact
Sally
Tel: 0086-571-88165697
Email:eduunion@cuecc.com
Skpye:studycn001
QQ:2853662503