Over 100 International Doctors Interacted with Optics Valley Intimatel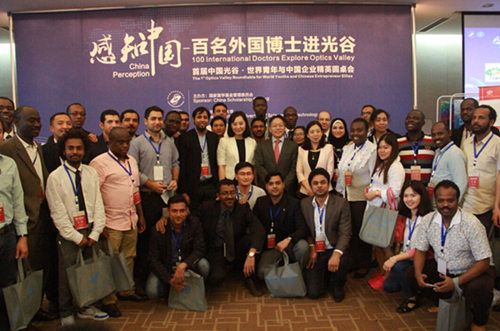 On June 1st and 2nd, China Perception: 100 International Doctors Explore the Optics Valley was held in Wuhan. Sponsored by China Scholarship Council and undertaken by Huazhong University of Science and Technology, this activity had attracted over 100 international doctors of Chinese Government Scholarship from 5 top universities for participation, including Huazhong University of Science and Technology, Wuhan University, China University of Geo-science (Wuhan), Central China Normal University, Wuhan University of Technology. They grasped a deeper understanding of the Optics Valley and China by interacting with a batch of star enterprises.
In the morning of June 1st, the First Roundtable for World Youths and Chinese Entrepreneur Elites was held and the assistant president Yuan Hanqiao delivered the opening speech. He said Huazhong University of Science and Technology(HUST) paid high attention to the education for international students and had cultivated over 6000 talents from over 140 countries throughout the world. In 2013, HUST was entitled as The Demonstration Site for Education for International Students in China and in 2015, there were around 3300 international students from 131 countries studying on campus, which witnessed the rapid development of education for international students. He encouraged the international students to immerse into the local culture and life during the stay in Wuhan and wished them to become a new Wuhan citizen after perceiving this city. Prof.Wang Jian from Wuhan National Laboratory for Optoelectronics delivered a speech titled as Light in Optics Valley Light up the Futher, in which he displayed the origin and development of Optics Valley, the future industries and some vital research programs.
"Welcome to join us!" During the conference, representatives from 7 enterprises delivered orientation speeches, including Wuhan Overseas Scholar Business Park, Humanwell, HGTECH, Wuhan Huagong Genuine Optics Tech Co., Ltd, Fiberhome, Waterstone Pharmaceuticals Group and Country Garden Holdings Co.,Ltd. They demonstrated their companies from different aspects covering brief introduction and structure of the company, brand value, typical cases and the policy about introducing in the international doctors and so on, which had aroused intensive attention from the doctors at present.
"Hello. I'm a doctor majoring Imaging Medicine in Tongji Medical College and I want to know what the requirements are for the international students to start up a business." "Hi. As a student of liberal arts, I don't know too much about technology. How could I establish a company back in my hometown then?"
In the Q&A part, the doctors asked the enterprises a number of questions to their interest and in response, the enterprise representatives answered the questions one by one from perspectives of the favorable polices that the international doctors could enjoy, the development prospects and so on.
Ms. Li Tingting, the deputy director of Division of International Student Affairs of China Scholarship Council, Mr. Zhang Fudong, the deputy director of Investment Promotion Bureau of Wuhan East Lake High-tech Development Zone expressed the opening remarks as well. Present were Mr. Yu Hailin and Ms. Zhao Xiaofeng, the dean and vice dean of School of International Education in Huazhong University of Science and Technology and Ms. Zhao hosted the conference.
After the conference, the internationals doctors were led to visit places like HGTECH,the Administrative Service Center in the Optics Valley, Wuhan Institute of New Energy and so on, from which they were exposed intensively to the public service level in the Optics Valley and its technology research capability.
It's said that China Perception was organized by the China Scholarship Council, aiming at adhering to spirit of the conference about International Students in China and implementing the policies on Comprehensive Opening Up in the New Times. It's to facilitate the scholarship international students to better perceive China's economy, social development, history and traditional culture and improve their sense of honor. Since 2015, a series activities on social practices and culture experiences have been conducted and this activity China Perception:100 International Doctors Explore the Optics Valley was designed to lead the scholarship international doctors into the local government and enterprises for a better understanding of the city they are studying in, from which they could feel its management level and high-tech industry development by themselves.