Volunteer Recruitment for G20
Zhejiang University of Finance and Economics held the meeting of volunteer recruitment for G20 in the affiliated campus of Xiashang on August, 19. The principal Zhong Xiaomin, vice principal Li Rumeng, member of the party committee Xu Xiaodong, the students section chef Fan Jianfeng attended the meeting. The meeting was presided by the principal of the communist youth league cadres.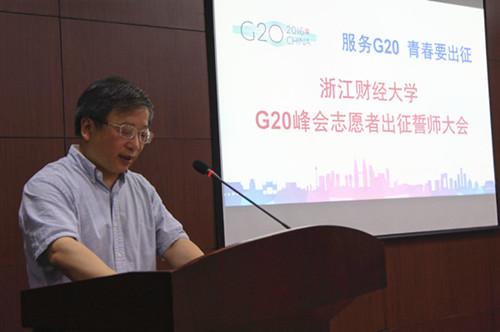 The principal of the university made a speech to encourage the students to take part in the service for the G20. He emphasized the importance to remember the mission and show the elegance of the university. On behalf of the student representatives in Zhejiang University of Finance and Economics, not only will the volunteer represent the charm of their university, but the Chinese youth. So they should strengthen the sense of glory and mission and value the chance to improve themselves.
Meanwhile, he hoped the students carry out the spirit of persistence and teamwork in the process of service. They are supposed to embrace the difficulties and challenges and bear the responsibility to discover, analysize and solve the problems. Finally, he focused on the safety of the volunteers. They should keep communication and contact with the teacher and near students. The university will try best to guaranteen the service to be safer, more efficient and smoothful.
The representative of the volunteers for G20 also made a speech to appeal the volunteer to consider the service for G20 as the only mission, and then spare no effort and time to serve all the work in the rules, so as to show the splendor of the Zhejiang university of Finance and Economics.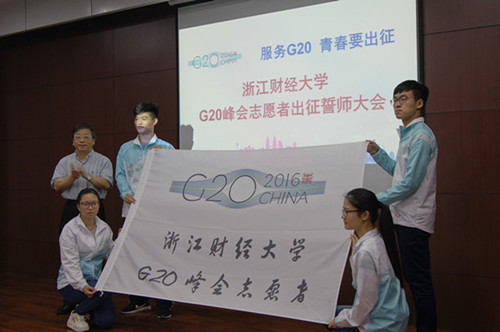 The principal of the university awarded the team flag to the volunteers for G20. In front of the flag, all the volunteers swore an oath and promised to make most of their efforts to serve for the G20, in order to show the splendor of the students, the glory of the university and the charm of the country.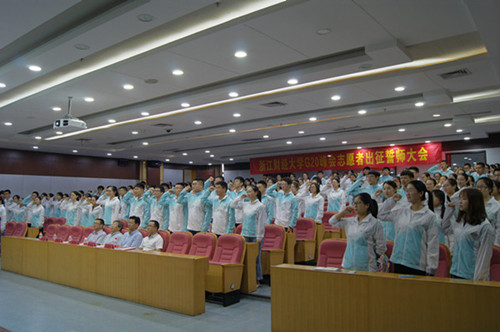 Zhejing University of Finance and Economics paid more attention to the service for G20, Since the recruitment began, the students actively attended the activity. Through 9 months choice, training and test, 198 students were chosen to be the volunteer. They undertook the strict theory study and practical training to improve the skill of service and the comprehensive quality, and will do the service formally recently.