Study in Liaocheng
Study in Liaocheng, Shandong Province
...........................................................................................................................................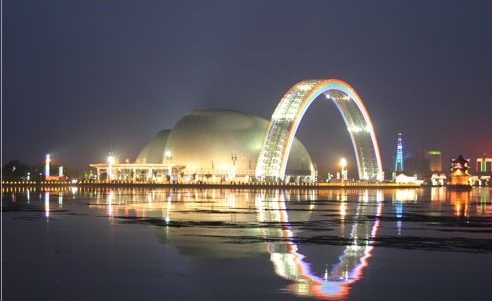 Located in the west of Shandong Province, Liaocheng city is on the lower reaches of the Yellow River and at the meeting point of Hebei, Shandong and Henan Provinces. It has a total area of 8,590 km2 and a population of 5.40 million.
Under its jurisdiction, there are one municipal economic develop zone and eight counties and prefectures: Dongchangfu, Linqing, Guan, Zi, Yanggu, Dong'e, Gaotang and Chiping Liaocheng has a smooth landform: Most of its territory is on the Yellow River alluvial plain except for the ten eroded hills along the Yellow River in Dong'e county.
Situated in the warm temperate zone monsoon climatic zone, Liaocheng is dry and windy in spring, hot and rainy in summer, dry in late autumn and dry and cold in winter. Its annual average temperature is around 130C.
The ancient relics make Liaocheng rich in tourism resources.
The world famous Grand Canal flows through the center of the city like a dragon. The 4.2 km2 Dongchang Lake, the largest man-made lake in the north of the Yangtze River, encircles this ancient city. Built in the early Ming Dynasty, the Guangyue Pavilion enjoys a reputation that "even the most famous pavilions in China like the Huanghe and Yueyang Pavilions would do obeisance ".

At the bank of the Grand Canal, there stands an iron tower erected in Song Dynasty. The stone carving on its pedestal was vividly designed. The commodious Shanshan Assembly Hall, built in Qing Dynasty, is a symbol of communications among people in central China in history as well as an important cultural relic. The tomb of Cao Zhi, one of the three famous Cao-named litterateurs of the Jian'an School in ancient China, is located to the west of Mt. Yu at Dong'e county.

Jingyanggang Hill, where the heroic figure in the Chinese legend Wu Song killed a tiger with bare hands and the Lion Pavilion where he killed the villain Ximen Qing, are all at Yanggu County, an area within the jurisdiction of Liaocheng.
This place, together with the neighboring Jinan, Tai'an, Qufu and Liangshan, forms a natural tourism line in Shandong Province. There are two historical relics under the key protection of the nation and sixteen of province-leveled historical sites. Liaocheng is also one of the 99 famous historical cities in China.

Liaocheng is located at the juncture of the Beijing-Kowloon and the Handan-Jinan railways, an important hub of China's railway transportation. The Jinan-Liaocheng-Guantao Expressway is connected with the Jinan-Qingdao Expressway. Jinan Airport lies only 80 km away. In 4 hours, you can reach the seaport of Qingdao on the expressway. And 5 hours are needed to get to Beijing by train. Hong Kong is within 1 day's reach. Mount.Tai, one of the Four Most Famous Mountains in China, and the hometown of Confucius, Qufu, are both about 120 km away.